CBI President calls on employers to collaborate with higher education
07/01/2010 15:14:48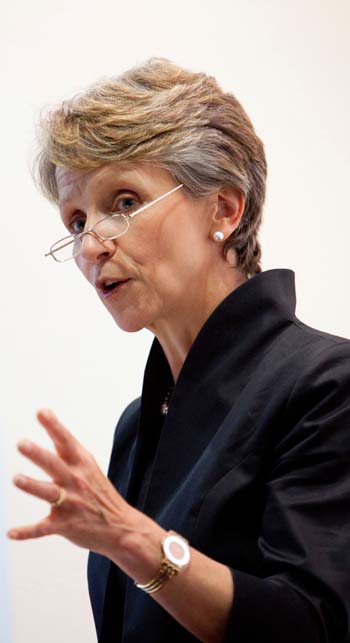 CBI President Helen Alexander
The President of the CBI has called for businesses to work more closely with universities in order to boost the economy.
Helen Alexander CBE was the distinguished speaker at Lancaster University's fifth Annual Professor Sir Roland Smith CEO Lecture in London on June 29. She became President of the CBI in 2009 following a successful career in publishing, most recently as Chief Executive of The Economist Group.
She stressed the CBI's commitment to collaborating with the higher education sector, recommending the economic benefits of a more highly skilled workforce in a global marketplace. And she called on businesses to play a bigger role in providing work experience, internships and student placements.
Her lecture, entitled "The Future Shape of Business: the Leadership Challenge Ahead", focused on the future shape of business, and how the world of work is changing after the financial crisis. Central to this was the theme of business reputation, and how improving leadership – as well as diversifying boards – should be a key priority for business leaders.
Lancaster University Vice Chancellor Professor Paul Wellings chaired questions from the audience of senior business figures, alumni and academics. He echoed Helen Alexander's emphasis on the importance of employability by pointing out that three quarters of current job categories had not been created 25 years ago.
The Professor Sir Roland Smith Lecture Series commemorates his significant contribution to the UK's academic and business communities. His widow, Lady Joan Smith, made a donation to Lancaster University Management School (LUMS) to fund a Chair in Strategic Management, now held by Professor Julia Balogun.