Boat Club members rescued on the River Lune
02/20/2002 17:12:09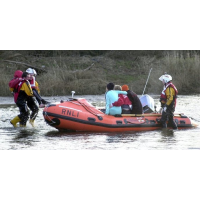 Members of the student boat club were taken to hospital on Tuesday morning (19/2/02) after the Womens' VIII rowing boat capsized during training on the River Lune.
The eight women and one male cox were carried over the weir near Skerton and the boat broke up. Some of the crew got to the bank and some to an island, where they were attended by other members of the club and later by the
emergency services.
The students were treated in the RLI for cuts and bruises, but were released later that morning.