Student completes first social work placement with police
07/16/2004 16:57:36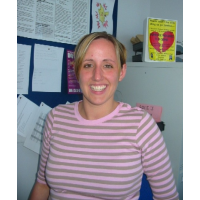 A LANCASTER University student has become the first in the country to complete a social work placement with the police.
Mary Jayne Rushton is currently studying for a Masters degree in social work was the first student in the country to be selected for the scheme which saw her spending four months with two experienced Domestic Violence Liaison officers at Lancaster police station.
If the pilot scheme is successful the idea could be rolled out across the country.
Mary Jayne, 25, has been shadowing the officers by visiting victims and offenders of domestic violence and experiencing how the police focus on a multi-agency approach, including Social Services, Mental Health Teams, Probation, Women's Aid, Family Protection Unit and the Court Service.
Domestic Violence Officer at Lancaster, Denise - who is unable to give her surname for professional reasons - said: "The idea of having a postgraduate student as a trial was voiced and this division was only to happy to embrace the idea.
"It has worked extremely well so far. We have all benefited and Mary-Jayne has been an asset to the team I think it is a very forward thinking move by the police service."
Mary Jayne - who is hoping to work with children and families when she qualifies - said: "I have learned a great deal. The police have been wonderfully helpful and supportive and it has been extremely worthwhile."
Placement Co-ordinator, Tina Stern from the University's Department of Applied Social Science, said: " This is the beginning of a new era when social workers and police personnel will work closely together and really understand the demands and pressures of both professions. Hopefully, the outcome will be a better service for all those who are vulnerable and need help. Working together is what it is all about."