Staff Prize Awards 2009
06/19/2009 11:24:18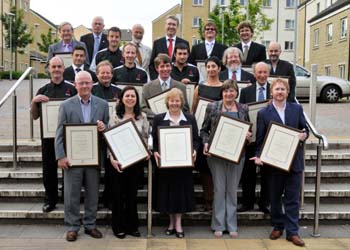 The winners with the Chancellor and Vice Chancellor
The achievements of staff at Lancaster University have been celebrated before an audience of friends and family at the annual Staff Prize Awards presented by the Chancellor Sir Chris Bonington CBE at Barker House Farm. Each prize includes a certificate and £1,000.
The two prizes in the Community & College category went to Cath Ewan, Computing, for her inspirational role in supporting students, and June Coulson, Fylde College, for epitomising the values of the college system in her role as Senior Tutor.
The winner of the Commercialisation Prize was Dr Andrew Sweetman, Environmental Sciences, for the start up company the Reach Centre Ltd, which is a new model of commercialisation for the University.
There were three prize winners in the Research category ranging from Dr Gerlinde De Deyn, Biological Sciences, who took the Early Career Research prize for an "outstanding start" to her career with 11 influential publications including one in Nature. The Joint Winners in the Established Researcher category were Professor Steve Jones, Health Research, who established the Spectrum Centre for Mental Health Research and attracted £2.5m in funding, alongside Professor David Lyth, Physics, for a 40 year career with 126 publications in leading journals.
The third prize - for a Research Group - went to the Cold Temperature Physics Group, Physics, for their outstanding international success in the physics of Superfluid Helium and Quantum Turbulence. The Group includes Professor George Pickett, Professor Peter McClintock, Professor Shaun Fisher, Professor Tony Guénault, Dr Ian Bradley, Dr Richard Haley and Dr Viktor Tsepelin.
The three prize winners in the Teaching category included Dr Victoria Mason, Politics and International Relations, for her "broad commitment to critical innovation in teaching and the creation of a stimulating and successful learning experience for students". Dr Corina Sas, Computing, was praised for her "excellent contributions" in teaching Masters courses in Human Computer Interaction while Professor Derek Seward, Bob Mackin, Jonathan Gates, David Lewis and Mark Salisbury in Engineering received the award for the Lancaster Racing Team Project which has run for ten years and provides valuable employment-related engineering knowledge.
The joint winners of the Media & Communication Prize Winner were Professor Paul Farley, English & Creative Writing, for his high profile national and international media work, and Dr Graham Mort, English & Creative Writing, for his work linking young writers in Africa to mentors in the UK.
Professor Charles Alderson, Linguistics and English Language, received the Postdoctoral Supervision prize for his work with a large number of postgraduate students, many now academics, and a "clear dedication to challenging research students to produce work of the highest quality".