Storyteller Vayu Naidu presents free workshop
09/29/2004 10:56:58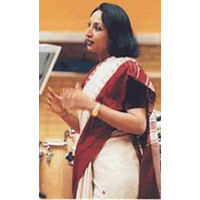 Storyteller Vayu Naidu will present a free two-day workshop at Lancaster University on October 30 and 31 as part of the Women's Writing for Performance project. She is also giving a free public talk on October 29 from 6-7pm.
Vayu Naidu is a storyteller and artistic director of the Vayu Naidu Company, a company dedicated to new writing for theatre and performance storytelling of the diaspora. Her art of storytelling is derived from the Indic oral tradition, with an emphasis on telling, not reading of a story using theatre and performance techniques.
Vayu Naidu is a lecturer in drama at the University of Kent, Canterbury, and performs solo as well as running process and performance workshops on storytelling. She also writes plays and has had her work performed on radio and on stage.
She is on the advisory committee of BRIT (Black Regional Initiative of Theatre) at the Arts Council of England, and is Associate Artist of Contact Youth Theatre at Manchester. She was also Artistic Associate of Leicester Haymarket Theatre and Artistic Producer of NATAK (Asian Theatre initiative) from 1998-2002.
For details of Vayu Naidu's public talk and workshop, and to apply, contact the Women's Writing for Performance project co-ordinator Penny Darby at p.darby@lancaster.ac.uk or visit the project's website at www.lancs.ac.uk/depts/theatre/womenwriting