Engineering students design lifeboat rescue beacon
07/03/2008 11:40:37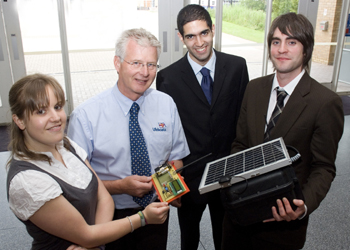 L-R Helen Lamont, Mr Peter Chennell, Shahin Arani and Robert Washington
Final year Engineering students at Lancaster University demonstrated a new self-powered rescue beacon that they have designed and built that could be used on a life raft to Mr Peter Chennell the Sea Safety manager of the RNLI. He met the students this week to comment on the new device.
The beacon has a GPS receiver, that works out where the life raft is, and a transmitter that takes the location message and transmits it every minute or so.
The students, Helen Lamont, Shahin Arani and Robert Washington have also designed a hand-held receiver that has a small LCD screen that shows the latitude and longitude of the vessel and its speed and heading.
To cut the risk of flat batteries, one of the innovative features of this design is that it has two alternative power sources – a solar panel on top of the box to charge the battery during daylight hours and a special linear generator that can charge the battery from the rocking movement of the boat on the waves.
The GPS system box would be taken for a spin on an inshore rescue boat and the hand-held device would stay back at the launch site and continuously monitor where the boat had got to.
Student Shahin Arani said: "Throughout this project, we aimed to create something that would increase survival chances of anybody who is stuck in a distress situation and is in need of rescue.
"Our main fear even till the final stages of the project was that we would not be able to create enough energy to enable the device to run indefinitely, but with support from our tutors, we managed to minimise the power consumption by as much as possible while increasing power generation to its highest level."