'This is not magic but work' Bertold Brecht
09/28/2004 11:11:30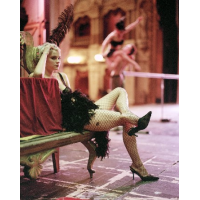 Vincent Dance Company returns to The Nuffield Theatre at Lancaster University with the UK Premiere of PUNCH DRUNK, a new work commissioned by the Nuffield Theatre. The company is also celebrating its 10th Anniversary.
Influenced by photographic documentation from the 1930's of dancers backstage at the Folies Bergère and the Monte Carlo Ballet, PUNCH DRUNK looks at the performer as a subject envisaged less as an 'entertainer' and more as a 'worker' who dances, long and hard, into the night.
Caught in a bygone era of music hall entertainment and flamboyant costumes, the six performers from Vincent Dance Theatre deliver a series of virtuoso vignettes that push the company's charged choreographic style to the limit. The dancing is passionate, daring and deadly. PUNCH DRUNK painfully and playfully examines what is involved in standing in front of a group of strangers, who are sitting in the dark, and dancing for them.
PUNCH DRUNK offers tantalising glimpses into the 'off' stage areas by making visible the clamps and bolts, cables and raw timber boards that hold a theatre performance together, making no attempt to conceal the human being behind the dance.
Punch Drunk is an intimate, low tech and darkly humorous study of what makes a good night out at the theatre.
This production has been made possible by funding from the Arts Council of England and was commissioned by The Nuffield Theatre, Lancaster and Sheffield Theatres.
Directed by Charlotte Vincent. Set Design by Richard Lowdon. Soundtrack by John Avery, Nuffield Theatre, Lancaster University Box Office 01524 594151
Vincent Dance Theatre, Punch Drunk (UK Premiere)
Friday 8 & Saturday 9 October at 8pm.
£8 / £5 concessions