Cornea research academic wins award
09/09/2004 15:49:22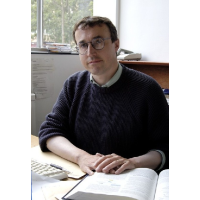 Lancaster University academic Dr Nigel Fullwood has won a prestigious £10,000 international science prize that is awarded only once every three years.
Dr Fullwood, a Senior Lecturer in Cell Biology at the Department of Biological Sciences, has won the Daiwa Adrian Prize for International Scientific Excellence for his research into the treatment of corneal disease. He shares the award with his team co-members Professor Shigeru Kinoshita (Kyoto University of Medicine), Dr Quantock (Cardiff) and Professor Noriko Koizumi (Doshisha University, Japan).
The Daiwa prizes are awarded on the basis of the quality of scientific work and its future potential. The awards panel includes representatives from the Royal Society, the Daiwa Foundation and the British Council and they consider work from all science disciplines – the only stipulation being that there must be an element of Anglo-Japanese collaboration in the project.
Dr Fullwood's award was made for a work entitled 'Corneal Cell and Matrix Biology, and New Approaches to the Restoration of Tissue Transparency after Injury or Disease'. The research began in 1997 when Dr Fullwood was funded by the Royal Society for a study visit to Kyoto Prefectural University of Medicine and first met Professors Kinoshita and Koizumi.
The study visit proved to be the starting point of a collaboration which has resulted in real progress towards the understanding and effective treatment of corneal disease. "The most important outcome of this project is that it will lead to the development of a technique now routinely used to restore the sight of individuals with corneal stem cell diseases," said Dr Fullwood.
Dr Fullwood paid tribute to the contribution made by members of his corneal research group at Lancaster University over the years, in particular the work of Dr George Bairaktaris, Dr David Lewis, Dr Matt German, Dr Russell Haigh, Helen Rigby and Dr Leanne Cooper.
The Daiwa prize has previously been won by team members from other UK universities including Manchester, Sheffield, UMIST, Oxford, Glasgow, Kings College and Edinburgh but this is the first time the winning team has included a member from Lancaster University. Dr Fullwood will attend the award ceremony which will be held at the Royal Society in November.