Cancer research award
08/14/2006 15:07:05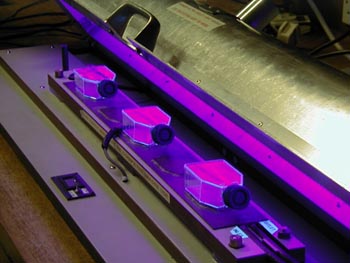 Skin cell cultures being exposed to UV light at Lancaster University
Scientists at Lancaster University have been awarded almost £78,000 from the North West Cancer Research Fund for a project investigating skin cancer, which kills two thousand people a year.

Professor Trevor McMillan and Dr Sarah Allinson at the Department of Biological Sciences are to receive the award for a two year study into skin cancer and the effects that UV radiation has on human skin cells. The study will look at all aspects of UV radiation, particularly examining the way in which skin cells respond to UV light of different intensities.

Dr Allinson said: "By understanding how the UV radiation in sunlight damages our skin cells, we will hopefully be equipped with a greater knowledge of how to protect ourselves from the cancer-causing effects of sunlight.
"The results of this North West Cancer Research Fund project will hopefully lead to a better understanding of this serious and increasingly common form of cancer and suggest more effective ways of preventing it."

Dr Sarah Allinson joined the Lancaster cancer research team in 2004 as part of a five-year programme investigating both the causes of cancer and the effects of cancer treatments such as chemotherapy and radiation therapy. She was recruited due to a £265,000 award from the North West Cancer Research Fund to Lancaster University - one of the largest ever to be granted in the history of the charity.

Professor McMillan said: "Biomedical research is thriving at Lancaster with a number of recent academic appointments and a close relationship with Liverpool University in the delivery of medical education. The support that the NWCRF has given us over the last 10 years has been vital in building a Cancer Research Group that is making an impact in the field. This grant is important because it links one of the NWCRF primary objectives of looking at the causes of cancer (in this case UV light) with the fundamental research that we are doing in the group."

There are three different types of skin cancer: basal cell carcinoma, squamous cell carcinoma and malignant melanoma. The first two are the more common and relatively easy to treat by surgery, although this may be disfiguring. Melanomas are much more aggressive and can be fatal.

In recent times the incidence of skin cancer has risen dramatically with around 2,000 deaths from skin cancer every year. This increase is attributed to a greater number of people holidaying abroad and an increased used of sun beds. Fortunately, as awareness of skin cancer has increased so have detection rates. The general advice to anyone who is worried about a mole or patch of skin that has changed in appearance over a period of weeks or months is to visit their doctor to check it out.

The North West Cancer Research Fund is an independent regional charity, which has been funding pioneering research in Lancaster University for twelve years. It makes £750,000 available every year for fundamental research into the causes of cancer. Almost all of the money is raised through voluntary donations and efforts. Throughout its 56-year history, more than 90 pence in every pound raised has consistently been spent directly on research.