Students Learn Work Skills on Charity Project
08/29/2008 13:57:33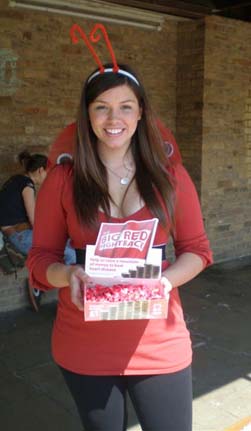 Fundraising in Alexandra Square
Students given the chance to run their own charity fundraising project say the scheme has helped prepare them for the world of work. It is the first time that the Centre for Employability Enterprise and Careers (CEEC) has organised the Insight Into Project and Events Management course.
The aim was to enable the students to run a project in a small team to raise money for local charities and community organisations. The workshops were led by employers including BAE Systems, AL Consulting and the Jon Turner Media Company.
Lyndsey Sterritt of CEEC said: "This is to fill a skills gap because FASS students especially maybe don't do project management and so this gives them a safe platform to learn how to do it and get feedback from local employers. It also enables them to learn about teamwork, communication and presentation skills which are vital in any job."
There were over 20 students on the course, who gave overwhelmingly positive feedback.
One postgraduate in Applied Statistics said: "It exceeded all expectations and was an excellent chance for experiential learning rather than being spoon fed all the theory."
One student said: "I have learnt a lot about myself whilst on this course, including about skills that I didn't realise I had."
Fundraising projects included a three-legged race, cake stalls, water dunking and a promotional student discount on a restaurant meal.The students raised a total of £753 for the British Heart Foundation, £315 for Lancaster and District Homeless Action, £129 for Animal Care and £195 for the YMCA.After they had run their own project, they gave a presentation and received feedback from the employers.
One student said: "This was an excellent way to communicate back to others about our project but also learn how others dealt with their projects plus learn about different charities."
Another said: "This was extremely useful for introducing me to project leadership and I'm glad I had the chance to do this because it showed me that I have more skills and attributes linked to project leadership than I ever realised."
The employers involved in delivering the programme were equally enthusiastic.
A spokesman for BAE Systems said: "The benefits of the programme should be evident in the students' ability to transpose the learning and experience into valuable employability skills. The arrangements of workshops and then a group project should equip them well to demonstrate these skills."
And a spokesman for AL Consulting said: "The programme will have been of significant benefit to the students as it exposed them to thought processes, skills and tasks that otherwise wouldn't have been available to them."
CEEC now plans to run a similar course next year.