The first medical students begin their studies
10/05/2006 12:20:35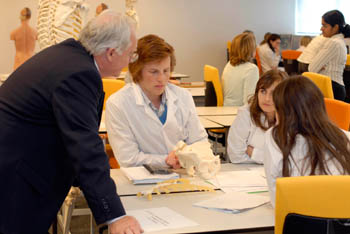 Prof Ockleford with the new medical students
The first ever intake of full-time medical students at Lancaster University have begun their studies at the start of their five-year degree course.

The 50 first year students are based at the new Centre for Medical Education on campus which includes a £1.6m Clinical Anatomy Learning Centre where students can see animated high-quality DVD screen-based presentations and study details of dissected human bodies as part of their Problem Based Learning curriculum.

One of the students is Helen Sacre, who is 18 and from Ripley St Thomas High School in Lancaster.

"There are only 50 of us here so it's small and friendly and the staff are so enthusiastic and helpful. I'm pleased to be near home and so are my family because I can meet them in town for lunch!"

Although the medical students will spend the full five years of their undergraduate degree at Lancaster, they will study the highly-regarded University of Liverpool curriculum and graduate with a Liverpool degree.

Medical student Elizabeth Davies is 26 and from Liverpool.
"I came here because of the excellent reputation of the course and because of the excellent facilities which are all new so it couldn't be better."

Also from Liverpool is 19 year old Christopher Johnstone who said he enjoyed being in such a small group of medical students.
"There are only 50 of us so we all know each other and we get along and the other benefit is that we get really personalised teaching."

Nineteen-year-old Joanne Curran from Northern Ireland said she had been impressed by the friendliness of people she met.
"I came to Lancaster to visit the campus and it's a lovely setting, everyone is so friendly and that's really helped me settle in.They've prepared really well for us and it's a new place with the best facilities."

Andrew Henton from Guildford in Surrey said the accommodation on campus was excellent.

"I really like it because you get to know each other really well in the JCR."

Teaching them anatomy is Prof Colin Ockleford, who helped establish medical schools at both Leicester and Warwick Universities. He is Director of the Clinical Anatomy Learning Centre at Lancaster and he has extensive experience of teaching across the whole range of anatomy.

"The first group of students on a new course is always special and they've been splendid. They've impressed me with their professional approach to their studies and they've got off to a good start. I'm sure I'm going to enjoy teaching them."

The launch of a medical degree at Lancaster is part of an expansion of medical training announced by the Higher Education Funding Council for England.The aim is to increase the number of doctors in the region because evidence shows that medical students are more likely to stay in the area where they studied.

The expansion is the result of collaboration between Lancaster University, the University of Liverpool, UCLAN, St Martin's College and the University Hospitals of Morecambe Bay NHS Trust. Lancaster University will be leading medical education delivery in Lancashire and Cumbria and aims to expand the number of places on the course in the future.The students will follow Liverpool's medical curriculum, which received the maximum grade when assessed by the Quality Assurance Agency in 1999.
www.cme.lancs.ac.uk