More staff join the Centre for Medical Education
10/10/2006 10:13:20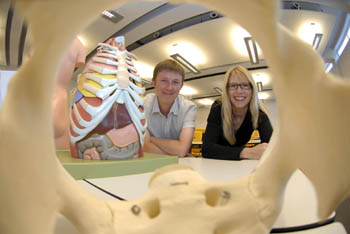 Dr Howard Lindsay and Dr Dawn Goodwin
Two more academics have been appointed to the new Centre for Medical Education at Lancaster University.

The Centre is part of an expansion of medical training announced by the Higher Education Funding Council for England and the first cohort of students began their studies in September.

Dr Howard Lindsay is a biochemist from Sussex University where he was senior research fellow at the Centre for Genome Damage and Stability.At Lancaster University, he will divide his time between the Centre for Medical Education and the Department of Biological Sciences.

He said: "It's exciting to come here to a new medical centre and be here at the birth of a new course. My role will be as director of first and second year undergraduate studies but I'll also be continuing my research.

"I'm interested in biomedical research, in particular the role of genomic instability in the development of cancer. I'll be establishing a research group as part of the Biomedical Sciences Unit looking at DNA damage responses and cell cycle control."

Joining him at the Centre for Medical Education is Dr Dawn Goodwin who is a former hospital nurse with extensive experience of operating theatres. She completed her PhD on the theme of anaesthesia before becoming a Postdoctoral Research Fellow at Lancaster University's Institute for Health Research.

She will divide her time between the Institute, where she is researching the sociology of health and illness, and the Centre for Medical Education, where she will tutor small groups of students in problem-based learning.

"I'm really looking forward to it because it's a different way of teaching medicine. Instead of being subject-based, the students learn different elements of the curriculum through different medical scenarios which are based on real life. As a tutor, it's my job to facilitate that and it will be really interesting.

"I'll also be doing research into how students learn, for example now they have a computer model for dissection instead of a body, and how that develops students into doctors."

These are the latest in a series of appointments at the Centre for Medical Education: Professor Anne Garden has already been appointed Director. Dr Gill Vince, Director of Medical Studies, and Prof Colin Ockleford, Director of the new £1.6m Clinical Anatomy Learning Centre, have been supporting her initiative as part of the core team in the period up to the admission of the new first year students.

Two more staff also joined CME this month: Julie Pearcy has moved from the Institute for Philosophy and Public Policy to be the Departmental Officer, and Phil Morgan has moved from the Faculty of Arts and Social Sciences IT team to be the Centre's IT Support Officer.

This expansion of medical teaching is the result of collaboration between Lancaster University, the University of Liverpool, UCLAN, St Martin's College and the University Hospitals of Morecambe Bay NHS Trust. Lancaster University will be leading medical education delivery in Lancashire and Cumbria and aims to expand the number of places on the course in the future.

Although the medical students will spend the full five years of their undergraduate degree at Lancaster, they will study the University of Liverpool curriculum and graduate with a Liverpool degree.The students will follow Liverpool's highly regarded curriculum, which received the maximum grade when assessed by the Quality Assurance Agency in 1999.