Delivering safe food from field to plate
01/16/2006 09:52:18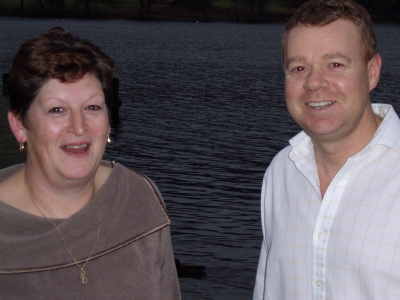 Cath Clayton,technical manager of Flavourfresh Salads and
Mike Corbett,technical director of British and Brazilian.
Food growers and suppliers from across the UK attended a week-long master class on food safety from field to plate.
The course, run by Lancaster University in conjunction with the University of Salford, brought together leading national experts in food safety, pesticides and microbiological hazards such as salmonella and E. coli to address some of the challenges facing modern farming and food production.
'Food Safety in Crop Production' is funded by the Biotechnology and Biological Sciences Research Council and ran from January 16 to 20th at the Lakeside Hotel, Newby Bridge, Cumbria.
Industry and academic experts will look at each stage of the food production process from fertilizers and pesticides used in the field through to harvest, storage, preparation and transport of food to the point of delivery to the customer.
Banana, berry and fresh salad suppliers are among the businesses to have signed up for the residential course, which is the first of its kind.
Dr Mark Bacon, Director of Enterprise and Business Partnerships in the Lancaster Environment Centre, Lancaster University, organised the programme.
He said: "Producing safe food and keeping food safe remains a world-wide public health problem and an increasingly high profile issue in the media. This is a unique opportunity for growers and suppliers to gain an up-to-date scientific understanding of the issues and to access expert information from leading experts.
"We examined the real and perceived threats to human health posed by food crop contamination and looked at the legal framework regulating pesticides and other residues."
Lancaster University Biologist Dr Keith Jones will take one of the modules, which focuses on the Microbiological hazards that can cause food poisoning.
He said: "Produce grown in the field and is always at risk of contamination from various pathogens but the vast majority of products are safe as long as good practice is followed. However, there have been some large outbreaks of Salmonella and E. coli 0157 associated with lettuce in several EU countries recently, so sometimes something goes wrong.
"We looked at potential sources of contamination – ranging from wild birds and rainwater to storage and cleaning procedures - and examined examples of good practice."

This year the course proved popular with suppliers.
Mike Corbett is technical director of British and Brazilian, which has a turn over of £30 million and supplies Waitrose with fruit from grapes to melons from across the world.

He said: "I chose to come on this course because it covers specialised subjects particularly relevant to my work. It has addressed important issues such as pesticide management, food safety, risk assessment and microbiology. These are all significant issues which are always in the media and are not going to go away. We need to keep aware and always be proactive in our approach."

Cath Clayton is technical manager of Flavourfresh Salads, growers of speciality tomatoes, strawberries and lettuce. The company is based in Southport and supplies companies including Marks and Spencer.

She said: "It is important to keep up to date with new legislation, particularly when you are working with major retailers as they expect you to keep on top of the game. This course has enabled me to refresh my knowledge and bring myself up to date in a number of significant areas."