Fairy lights of the future
12/18/2007 11:35:31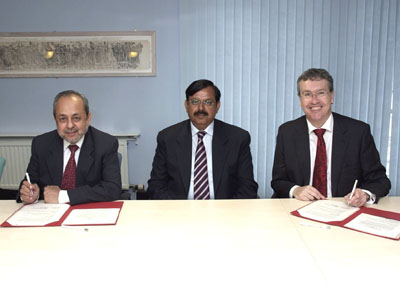 Project Firefly - fairy lights of the future
At first glance they look like a simple string of fairy lights to celebrate the festive season. But look a little closer and you'll find that there's more than meets the eye to one of the displays currently lighting up Lancaster City Centre.
CityLab in Dalton Square has been chosen as the guinea pig for one of the latest innovations to come out of Lancaster University's InfoLab21 - Project Firefly.
These futuristic fairly lights have been given a technological upgrade by two adventurous Lancaster University academics, Dr Joe Finney and Professor Alan Dix, based in the Computing Department at InfoLab21.
Each light contains a miniature computer, making them individually controllable. As a result patterns and effects are much easier to create and can be far more intricate and dynamic than those currently available.
The installation, 7.5m by 5 m, consists of 3000 lights, each with an integrated miniature computer. It is likely to be the largest deployment of computers in one place that shoppers in Lancaster will have ever seen. The lights use latest high efficiency LED technology, so the whole display only takes 300w to power - about the same as five normal light bulbs.
The lights can be hung in any order, anywhere, in any configuration. A key feature of the lights is that they can also work out for themselves where they have been placed in relation to each other, and can be individually controlled. This way a seemingly random collection of lights can be turned into a structured 2D or even 3D display. Furthermore, the lights require fewer cables than current systems, all making deployment of these lights much easier.
Dr Joe Finney said: "This project really highlights how modern Computer Science is being used to support a whole new wave of innovative products and applications. As the cost and size of computers shrink, we'll see more and more examples like this of computing making our world better and easier. Firefly is one example of the way we seek to explore this changing role of computer science technology and innovation in our many research projects and our degree programmes at Lancaster University Computing Department."
Commenting on the display, Coun Abbott Bryning said: "This is an excellent and very visible example of how the City Council and Lancaster University work together. It is very fitting that CityLab, which provides office space for knowledge economy businesses, can act as a demonstrator for new technology developed at InfoLab21."
The technology has great commercial promise. Eventually the lights could revolutionise lighting displays and have great potential for advertisers.
Project Firefly originated as part of the e-Campus project - a major initiative at Lancaster University that is exploring new public display technologies and their applications. e-Campus is a joint initiative between the Computing Department, ISS and Lancaster's Estates Department.