Chinese Academy of Sciences to collaborate with Lancaster
01/20/2010 11:09:42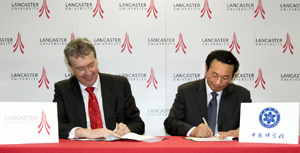 Professor Yonglong Lu and the Vice-Chancellor sign the Memorandum
Lancaster University's links with China have been strengthened with a formal collaboration with the Chinese Academy of Sciences (CAS) based on the environmental sciences.
A delegation from CAS visited Lancaster this month (January 18-20), to sign a Memorandum of Understanding outlining areas of joint interest and agreeing a timeframe for developing priority areas.
Opportunities for collaboration include postgraduate and staff training, summer schools, exchange programmes, business and enterprise, and research.
The five visitors were welcomed at the Lancaster Environment Centre, where they viewed presentations by senior staff on the University's environmental portfolio before the signing of the Memorandum. They also met colleagues from the University's China Bridge project as well as Chinese visitors and researchers.
LEC Professor Kevin Jones, who helped set up the link with CAS, said: "We are very pleased to be working closely with CAS on global problems and topical environmental issues ranging from sustainable agriculture and land use to energy, waste and pollution.
"The partnership will also enable us offer a new two year Masters Programme to students who will split their study time between Lancaster University and CAS."
CAS has over 100 institutes as well as a university and graduate school. The CAS Institute for Geochemistry in Guangzhou, Guangdong province, and the CAS Institute for the Urban Environment in Xiamen, Fujian province, have been chosen as initial institutes for collaboration, since they already take the lead role for CAS in Lancaster's UK-China Bridge Project.
The China Bridge project is funded by Research Councils UK to improve UK innovation links with China to help tackle environmental issues such as global food security and water quality. Professor Bill Davies of the Lancaster Environment Centre is leading the three year research programme which will tackle some of these problems.
Lancaster's Partners in China include leading scientists at: China Agricultural University, Nanjing University, North West Agricultural and Forestry University and the Chinese Academy of Sciences.
The University's links with China also include the Lancaster China Management Centre at LUMS which aims to develop new programmes of research and teaching relevant to the needs of Chinese managers.
In 2008, the University launched a three-week Summer School at Beijing Foreign Studies University - Lancaster's longest standing partner in China and one of China's leading universities in teaching foreign languages and cultures.