Arts Events
08/25/2006 13:55:53

Peter Scott Gallery Exhibition

JOHN HUBBARD
Main Gallery
15 January – 23 March 2007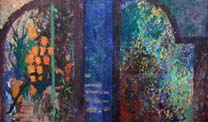 Double courtyard by John Hubbard
An exhibition of works by artist John Hubbard will be on display at the Peter Scott Gallery on Lancaster University campus until 23 March 2007.
The exhibition shows a number of oil paintings and charcoal drawings inspired by courtyard gardens in Spain, including those of the Alhambra Palace in Granada and the Alcazar in Seville. These works reveal enclosed courtyards with richly patterned areas of colour, where organic growth and architecture meet.
In 1996 Hubbard won the Jerwood Prize for painting. He has exhibited widely and has works in many public and private collections, including Lancaster University Art Collection.
Many of the works on display in this exhibition are for sale. A full-colour illustrated catalogue is also available to accompany the show.
The exhibition is sponsored by Ashton Hall Garden Centre in Lancaster.
The Peter Scott Gallery in now open on SATURDAYS during exhibitions
Open during exhibitions: Monday – Saturday, 11am – 4pm & Late Thursday 11am – 9pm, Free Admission, Tel: 01524 593057
www.peterscottgallery.com