Northern Leadership Academy officially launched at Lancaster
06/27/2007 13:20:54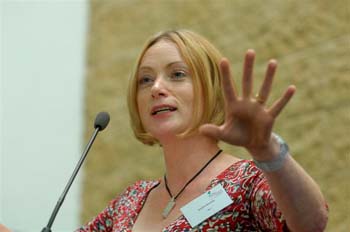 Guest speaker Deirdre Bounds, founder of i-to-i, at the launch of the Northern Leadership Academy
Over two hundred people gathered at Lancaster University Management School for the official launch of the Northern Leadership Academy which is based on campus.
The Academy is led by a consortium including LUMS, Leeds University Business School and the University of Liverpool Management School, supported by a range of public and private sector organisations across the North.
The Academy aims to provide new opportunities for leadership development for existing leaders and those with leadership potential throughout the North. The initiative will help to identify the leadership gaps that are most significant in ensuring the Northern regions close the North-South productivity gap, to attract talented individuals back to the North and to increase the number of business start-ups.
The two hundred delegates were drawn from the private, public, voluntary and academic sectors for the launch on June 19th. They were presented with the concepts that underpin the NLA, its mission and they met senior members of the NLA project team.
The day's guest speaker was social entrepreneur Deirdre Bounds, founder of ethical travel specialist i-to-i, who warmly welcomed the launch of the NLA.
Deirdre, who grew the business from her bed-sit into a global market leader in ethical travel, used her speech to urge the North's business leaders to develop better skills to compete at home and abroad.
She described how she had struggled to start her own business, citing a lack of guidance, resources and understanding of leadership and management skills as contributing to her difficulties.
After her speech, she joined a panel of leadership experts for a lively Q&A session, helping answer questions from delegates.
The launch also saw the unveiling and demonstration of the new NLA interactive leadership portal which provides a virtual learning environment.
Other resources on offer include a think-tank to provide advice on leadership and enterprise development, a network of ICT hubs to act as development areas for business in the North, and a rolling programme of master classes, mentoring and scholarships to help champion leadership.
To read more about the official NLA launch visit http://www.northernleadershipacademy.co.uk/
To see video clips of the day's proceedings, including highlights of Deirdre's speech, visit http://www.northernleadershipacademy.co.uk