£1.6m project to create social networking tool for travellers
07/07/2011 00:00:00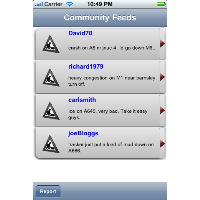 ​Road and rail users will be able to share information about their journey and update each other about delays thanks to a £1.6m research project at Lancaster University. 

Our Travel is a new type of travel information system based on social networking and direct information from transport workers. The aim is to reduce congestion and improve the transport system as users find more efficient ways to travel.
It will be available as an app for mobile devices like iPhones, providing up-to-the-minute information so people can decide how and when they will travel.
Professor Nigel Davies from the School of Computing and Communications at InfoLab21 said: "The key is that this is information from other travellers or workers repairing the roads.  There is no third party involvement so it's very direct and from a trusted source.
"Our Travel enables people to create a community of people who share the same journey and who can update each other about, say, a tree on the route or roadworks. You can check your mobile and find out that someone else who has just done your trip into work is reporting flooding under the bridge, or the wrong leaves on the track."
Disruption caused by accidents and emergencies could also become a thing of the past as information is provided to travellers immediately, allowing them to avoid incidents and cut down on delays.
Our Travel can also be used to inform people of roadworks, winter gritting, and crews carrying out road markings.  Once the work is scheduled on the Our Travel system, it informs relevant users of the potential impact on their journeys and enables users to give feedback to companies on how the work has affected them.
Professor Davies said: "At the moment, local news updates or radio travel news will only give you a general overview and will not be specific about your route. Even motorway signs warning of delays can be out-of-date by the time you drive past."

Our Travel is part funded by the Technology Strategy Board, and developed and trialled by Lancaster University in collaboration with the Morecambe company In Touch Ltd and Carillion plc.

Research at the School of Computing and Communications is recognized for its exceptional quality and international reputation. The UK Research Assessment Exercise 2008 found that 100 per cent of its research was of international standing, and 80 per cent was rated as world leading or internationally excellent. An International Review of UK Computer Science cited the School as one of only a handful of centres undertaking "leading edge systems research".
www.ourtravel.org.uk