£1.45M grassland study to increase soil carbon and reduce greenhouse gases
06/07/2011 00:00:00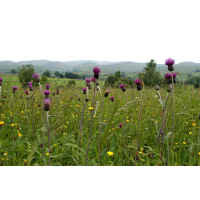 Lancaster University is leading a £1.45 million publicly-funded project to find ways to help grassland farmers increase carbon storage in soil and cut greenhouse gases, while producing enough food to feed a growing world population.
Farming and land use is responsible for about 7.4 per cent of total UK greenhouse gases. And with the UK's commitment to reduce greenhouse gas emissions, there is mounting pressure to find ways of increasing food production without driving up emissions, whilst also protecting biodiversity.
Researchers believe that a combination of increasing grassland plant diversity and sowing certain plants, such as legumes, could play an important part in this difficult challenge by 'locking' carbon dioxide and retaining nutrients, such as nitrogen, in the soil.
The research will take forward a study completed earlier this year in the Yorkshire Dales which showed that increasing plant diversity can yield significant benefits for soil carbon and nitrogen storage when combined with increased abundance of certain legume species, such as red clover. Covering large areas of the globe, grasslands are a key system for climate change mitigation.  UK grasslands cover 36 per cent of the land surface and already hold 32 per cent of the UK soil carbon stock. If managed correctly they could potentially store even more.
The five-year study, largely funded by the Biotechnology and Biological Sciences Research Council (BBSRC) with additional investment from Natural Environment Research Council (NERC) and Department for Environment Food and Rural Affairs (DEFRA), will provide the first information on the potential for plant diversity to be used to manipulate soil nutrient cycling, increasing carbon and nitrogen storage, and lowering greenhouse gas emissions.
The study will be based on a field experiment in Cumbria that will test different plants and plant combinations for their impact on grassland ecosystem services including emissions of the greenhouse gases carbon dioxide, methane and nitrous oxide, nutrient cycling, and carbon storage in soil.
Professor Richard Bardgett of the Lancaster Environment Centre (LEC) is leading the study that brings together researchers at the Centre for Ecology and Hydrology (CEH), Lancaster and Aberdeen University.
He said: "We are presented with a conflict between the need to increase food production for a growing population, while reducing agricultural emissions and adapting to climate change, and also protecting biodiversity.
"However, we believe that, if managed appropriately, grasslands have the potential to help drive down our carbon emissions by locking up carbon in the soil, preventing it from being released into the atmosphere.
"This research will explore ways that certain combinations of plant species, combined with increased diversity, might help in this process by changing the amount of carbon entering and staying in soil, and reducing greenhouse gas emissions."
 
ENDS

Lancaster Environment Centre
The Lancaster Environment Centre brings together environmental researchers of international reputation from Lancaster University and the Natural Environment Research Council's Centre for Ecology and Hydrology to form one of the largest groups of its kind anywhere in Europe. The new £25 million LEC building contains state-of-the-art controlled environment facilities, specialised laboratories and cutting-edge equipment to allow integrative studies of terrestrial, aquatic and atmospheric systems.

BBSRC
BBSRC is the UK funding agency for research in the life sciences and the largest single public funder of agriculture and food-related research. Sponsored by Government, in 2010/11 BBSRC invested around £470 million in a wide range of research that makes a significant contribution to the quality of life in the UK and beyond and supports a number of important industrial stakeholders, including the agriculture, food, chemical, healthcare and pharmaceutical sectors. BBSRC provides institute strategic research grants to the following:
The Babraham Institute, Institute for Animal Health, Institute for Biological, Environmental and Rural Studies (Aberystwyth University), Institute of Food Research, John Innes Centre, The Genome Analysis Centre, The Roslin Institute (University of Edinburgh) and Rothamsted Research.The Institutes conduct long-term, mission-oriented research using specialist facilities. They have strong interactions with industry, Government departments and other end-users of their research. For more information see: http://www.bbsrc.ac.uk
 
The Natural Environment Research Council (NERC)
The Natural Environment Research Council (NERC) is the UK's main agency for funding and managing world-class research, training and knowledge exchange in the environmental sciences. It coordinates some of the world's most exciting research projects, tackling major issues such as climate change, environmental influences on human health, the genetic make-up of life on earth, and much more.   NERC receives almost £400 million a year from the government's science budget, which it uses to fund independent research and training in universities and its own research centres. www.nerc.ac.uk