Cancer in Young Adults
01/07/2003 10:44:12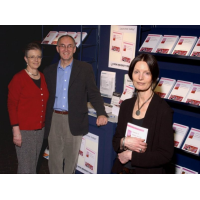 A Lecturer from the Institute for Health Research and the School of Independent Studies, Dr Anne Grinyer, has launched a new book entitled "Cancer in Young Adults, Through Parents' Eyes".
Dr Grinyer shares the accounts of 28 young people, from the perspectives of their parents, as they first encounter and then experience serious illness. The book is an in-depth personal and informative study about the kind of issues that arise when a young adult gets cancer and addresses many questions raised by parents, some of which include 'how can young adults maintain their sense of independence when illness brings them back to the family home recently left' and 'how do parents discuss issues of fertility with their son or daughter after a cancer diagnosis'.
The book has been inspired by George Easton a Lancaster student who died from osteosarcoma at the age of 23 in 1999. During his illness his parents tried unsuccessfully to find information on the life-stage issues that make life-threatening illness during young adulthood particularly difficult to manage. After George's death his parents set up a Trust to fund research in this area. The book is the outcome of that research.
The Trust received a donation last summer following a cycle ride in George's honour. The sponsored cycle ride was held between Sheffield and Lancaster. George was studying at Sheffield when first diagnosed with his cancer.