Lancaster University - celebrating 40 years of excellence
09/21/2004 09:52:14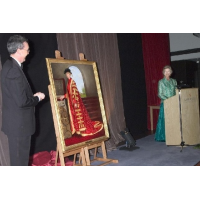 Lancaster University has celebrated its 40th year with a Charter Dinner.
On Friday, September 24, more than 200 guests gathered at Lancaster University's Great Hall to mark the occasion with Chancellor HRH Princess Alexandra, honorary graduates, distinguished guests and founding members of staff.
The private dinner was one of a series of events this year marking the anniversary of the University receiving its Charter from Government on September 14, 1964.
Earlier this month hundreds of staff and their families attended a party at Leighton Hall to celebrate the milestone in the University's history and on December 7 the BBC Philharmonic is set to perform a special 40th Anniversary Concert in honour of HRH Princess Alexandra.
The dinner was one of the final formal events to be attended by HRH Princess Alexandra, who was installed as Lancaster University Chancellor on November 18, 1964 and is due to retire as Chancellor this December. A new portrait commissioned in honour of her 40 years as Chancellor was unveiled at the dinner.
Lancaster University Vice Chancellor Professor Paul Wellings said: "These events give us the opportunity to celebrate the origins of the University and college system which is still so valued by students. It also focuses our minds on the achievements of our key people - staff, students, friends and alumni - who helped shape Lancaster into the thriving, multicultural, excellent university it is today."