Sixth Form Heads Seminar
02/06/2002 12:31:11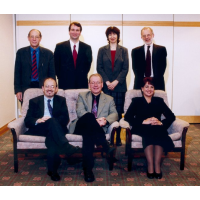 On 7th December 2001 three Heads of Sixth Forms were invited to the University to discuss the development of university/sixth form partnerships. The teachers represented the range of institutions where Lancaster's best applicants are to be found. They met Nick Abercrombie, Deputy Vice Chancellor, Amanda Chetwynd, Chair of Undergraduate Teaching Committee, John McGovern, Director of Communications and Marketing and Roger Gould, Schools and Colleges Liaison Officer. The teachers were from the King's School, Tynemouth, Harrogate Grammar School and William Howard School, Carlisle.
The day focused on how prospective undergraduates choose universities, the external view of Lancaster University, trends in sixth form relating to student choice, and the impact of curriculum 2000 and its likely development.
The Schools & College Liaison Office hope to organise a regular seminar programme with their senior contacts in school and college sixth forms to ensure that recruitment initiatives on and off campus match or lead sixth form students and heads expectations.