New Dean for Management School
08/06/2001 09:41:53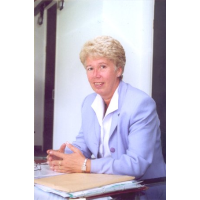 Lancaster University's prestigious Management School has appointed Professor Sue Cox as its new Dean.
Professor Sue Cox, who is currently Director of the Loughborough University's Business School, will take up her post at Lancaster on the 1st October and take the Chair of Safety and Risk Management. Sue says that she will be looking for strategic opportunities to further develop the Management School:
"The UK has experienced a growth in the field of management education and research and this is set to continue. This offers opportunities for excellent Management Schools to develop further and to increase their impact in Europe and on the world stage. One of Lancaster's many advantages is that it is one of the few 5* schools with the expertise to develop new business leaders in the UK, in Europe and globally. My role will be to press home this and its many other advantages through the opportunities that exist in the world business community. I shall be developing new links with our various stake holders in business and commerce and with policy makers here and abroad."
A former industrial chemist, Sue's research and teaching expertise is in human factors, safety management systems and risk. It is supported by much practical experience in large multinational organisations such as Michelin, Ocean Group, Air Products, Northern Foods and Severn Trent advising on the design and evaluation of safety management systems. Her work has extended beyond Europe to offer support safety management in developing countries working in Kuwait, the Republic of China and India within their chemical industries. She has published extensively on safety management, risk assessment and training and on human factors in occupational health and safety.
Sue is a member of the British Psychological Society, the British Academy of Management, the Institute of Occupational Safety & Health, and a Fellow of the Royal Society for the Promotion of Health. She is also a member of a number of government committees related to the nuclear industry, including the Health & Safety Commission's Nuclear Safety Advisory Committee (NUSAC) and an adviser on human factors, organisational and cultural issues within the nuclear and chemical industries.
Sue is an Executive of the Association of British Business Schools, a member of the British Academy of Management's Council, and has been involved with the Council for Excellence in Management and Leadership that has been set up to enhance the quality of British management.
Sue says she must earn the respect of the School at Lancaster and offer effective leadership in meeting the goals that the University has set for the School. She is looking forward to nurturing young researchers and finding ways to retain the excellent staff that have made the School so successful. She will be the Management School's first female Dean.
Ends
For more information contact Vicky Tyrrell 01524 594120 or Dr Rick Crawley 01524 533988