Institute of Mechanical Engineering prize for a final year project
09/21/2001 10:39:53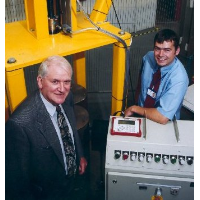 GRADUATE engineer Paul Warburton has won a prestigious Institute of Mechanical Engineering prize for a final year project which may offer British Energy a solution to a fuelling machine problem.
Paul spent a year at Heysham 1 Power Station as an industrial placement, and was ready to return to Lancaster University to complete his engineering degree when Steve Wann, a fuelling plant systems engineer, set him a task.
Heysham 1 and Hartlepool fuelling machine's lead screw which lifts the stringers was wearing prematurely and inconsistently.
Although this issue did not have safety implications it was causing delays as more repair time had to be built into the refuelling cycle.
Paul's task was to investigate ways of testing the screw system which would the offer diagnostic information on the screw's performance and maybe a potential lubricant solution to the wear.
In November last year under the watchful eye of David Dawson, senior lecturer in the university's engineering department, Paul started designing and building a test rig to mimic the fuel grab's actions.
David said: "The design skills Paul learned during his time at Heysham 1 through CAD, were of the highest standards and meant that he had real advantage when he started work on the rig.
"It really shows the benefit of talking the year out in industry because he came back with skills that we don't have time to build into our courses. His time at Heysham also showed him the value of total project management from design to tender."
Paul asked for tenders for the building work from local firms, and finally chose Kendal-based Bennett Engineering to carry out some of the work although university technicians built the rig's support structure.
This structure had to support two tonnes, which replicated the weight of the fuel stringer. The weights were then slowly extended and retracted to copy the fuelling machine's actions.
The rig was linked to a diagnostic computer which then gave back highly accurate data.
After six months' hard work the rig was finally completed and worked perfectly. Paul said: "Interestingly the torque the rig generated matched that of the fuelling machine, which meant that the results are even more accurate."
The rig impressed the Institute of Mechanical Engineers panel who awarded it the top prize within the university engineering department. Paul was given a 2:1 Bachelor of Engineering with honours and joined Heysham 1 as a graduate engineer in June.
David: "What we are hoping now is that we can carry on with Paul's work and maybe use the test rig to try a variety of lubricants which might alleviate the problems seen at Heysham 1."