Students of the Sixties Reunite
10/28/2004 10:29:31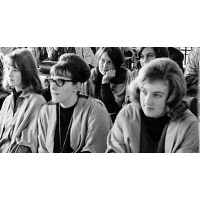 One hundred of Lancaster University's very first students are set to return to the city next week for a special 40th anniversary reunion dinner.
The Beatles and The Supremes were riding high in the charts when the class of 1964 embarked upon their studies at Lancaster University and on November 13, the former classmates will gather to relive old times and indulge in a 1960s disco.
The private event, organised by the Alumni and Development Office, will be held at Lancaster House Hotel. It will begin with a presentation from Lancaster University Vice Chancellor Professor Paul Wellings.
The reunion is one of a series of celebrations marking the 40th anniversary of the university this year.
Chris Fancy, Director of Alumni and Development, said: "It is fantastic to have so many graduates from our first intake in 1964 coming back to the campus. It will be a great opportunity to recall times past with them, but also to give them a chance to see how the University is still evolving and growing into an education establishment of world-class in the 21st century."