Biology students present work to MPs
05/26/2006 08:56:45
Two PhD students from Biological Sciences had a rare opportunity to discuss their research with politicians and senior scientists at the Houses of Parliament.
Students Jason Wargent and Joanna Heaton attended the Special Reception for Britain's Top Younger Researchers in Bioscience on Monday May 8th.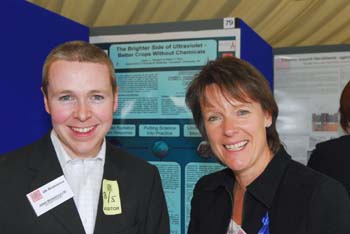 Jason Wargent & Caroline Spelman (MP for Meriden)
The event, organised by the SET for Britain initiative, gave Britain's younger researchers the chance to present posters at Westminster on leading-edge research in UK Bioscience. It was supported by the Association of the British Pharmaceutical Industry (ABPI), Biotechnology and Biological Sciences Research Council (BBSRC) and the Medical Research Council (MRC).
The aim of the event was to bring real research to the attention of Parliament and to encourage increased dialogue between MPs, early-stage researchers and Britain's research communities.
The posters presented by the Lancaster students emphasised the applied agronomic nature of both their research projects, which were funded by the Horticultural Development Council and the European Union.
The first project, supervised by Dr Nigel Paul, is investigating the exploitation of ultraviolet light as a controlling factor in crop growth. The second, led by Dr Keith Jones, is developing strategies to reduce microbial contamination of salad vegetables.
The students' attendance at the reception was financially supported by both the Faculty of Science and Technology and the Horticultural Development Council.
Attendees were encouraged to invite their local Members of Parliament to the session, and during the day Jason Wargent received a visit from Caroline Spelman, MP for his home town constituency of Meriden.
Joanna Heaton said: "Such events are invaluable not only in terms of developing research skills such as scientific communication, but also in promoting discussion between us the researchers and those involved in policy-making."