Buses and Butterflies
10/07/2005 14:19:35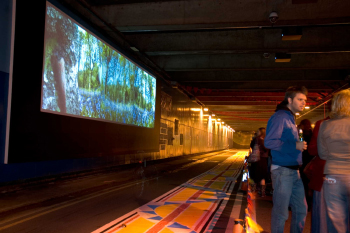 Interactive art installation 'Metamorphosis' in the Uni underpass
Lancaster University has launched a piece of pioneering traffic-triggered interactive art.
A computing collective at the University has teamed up with a group of artists to produce a sound and vision art installation, which has a technological twist.
Metamorphosis opens on October 15th in the Lancaster University underpass - a main thoroughfare for university traffic including buses.
The exhibition takes the form of a large audio-visual installation - an animated film of a butterfly emerging from a chrysalis is projected across three large screens and is accompanied by a bespoke sound track.
What sets this exhibition apart from other installations is the experience is entirely controlled by the flow of traffic in the underpass.
Multiple hidden sensors scattered around the underpass register any movement in the exhibition space sending coded messages to the audio-visual equipment. For example if a vehicle approaches the butterfly projected across the screen, the butterfly will appear to become afraid and fly back into its chrysalis.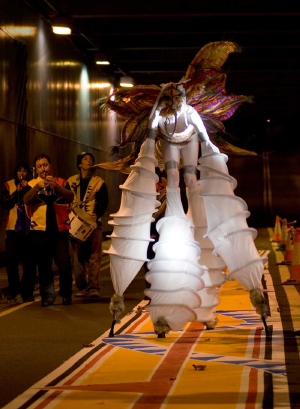 Street performers at the launch
A computing collective - known as .:thePooch:. - based in the University's ICT research, development and business centre InfoLab21 has been working with Ulverston-based celebratory arts centre Welfare State International to produce the exhibition.
Lancaster University Computing researcher and Director of .:thePooch:. Jennifer Sheridan said: "The exhibition is a creative coupling of technology and art that asks some interesting questions about how we interact with computers."
Metamorphosis was previously showcased at Welfare State International's Lantern House in Ulverston.
Metamorphosis was launched at Lancaster University on Saturday, October 15th 6:30pm - 8:30 pm with a street party.
The installation coincided with several workshops that ran on the University campus in the days leading up to the official opening.
For further information go to http://www.thepooch.com/Events/metamorphosis.htm or email sheridaj@comp.lancs.ac.uk