Student Cycling Doubles
02/29/2008 16:47:51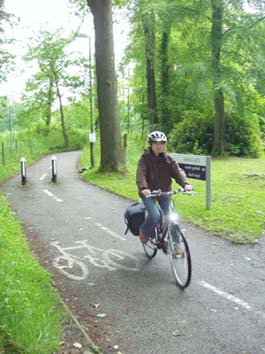 More students are cycling to campus
The numbers of students cycling and walking to campus has almost doubled in less than two years according to University surveys.
Over ten per cent of students living off-campus now cycle to the University, up from just over five per cent 21 months ago.
In the same period, the numbers of students walking to University has also doubled from just over 3 per cent to over 6 per cent.
The numbers of staff cycling to work is one of the highest in Lancashire at just over 13 per cent, while fewer students and staff are driving to work.
But there is a huge gap between the numbers of men and women cycling to work, with over three times as many men as women arriving by bike.
Philip Longton, the Travel and Environment Co-Ordinator, said: "Over 21% of male staff cycle to the campus as their main mode of travel but only 6% of female staff do. We will be talking to all staff, cyclists and non-cyclists, to find out why there is such a difference and then work to bridge this gap by enabling more female staff to cycle here to work".
The trend is mirrored with students too, with fewer female students cycling and walking than their male colleagues.
The findings come from two travel surveys last November, where students and staff were invited to complete an online travel questionnaire.
The questionnaires enable the University to monitor the progress of its Travel Plan and also to ensure that its revised Travel Plan, to be published this spring, takes staff and student input into account.
The survey findings reveal that as many as 30% of all postgraduate research students living off-campus are regularly cycling.
Philip Longton said: "To be having more postgraduate research students accessing the campus on bicycles than in cars as either drivers or passengers, is a great achievement."
Overall, student car use dropped by 4.8% between February 2006 and November 2007.
Lancaster University has done much to encourage and enable travel by bicycle, foot, public transport and the sharing of cars since its Travel Plan was published in July 2004.
Key milestones have included the establishment of a Transport Working Group within the University governance structure, the creation of two permanent full-time posts of Environment & Sustainability Manager and Travel & Environment Co-ordinator, the completion of two annual action plans and major changes to student and visitor car parking policy.
Jonathan Mills, the Environment & Sustainability Manager, commented, "We are delighted with the progress we have made so far in controlling the transport related environmental impacts of the University. There is a lot more that Lancaster University can do and we are looking forward to making further progress as the revised Travel Plan is implemented".