Bill Rammell MP visits Lancaster University
04/15/2005 15:04:20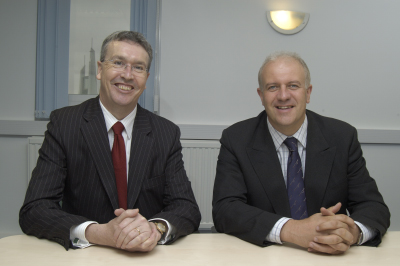 Vice Chancellor Professor Paul Wellings and Bill Rammell MP.
Bill Rammell, Minister of State for Lifelong Learning, Further And Higher Education,visited Lancaster University on Tuesday for discussions with Vice-Chancellor Professor Paul Wellings and to see some of the new developments on campus, including the Lancaster Environment Centre, the Lancaster Leadership Centre, Infolab21 and the new student village Alexandra Park.
On the 5th and 6th July Lancaster hosted the annual residential conference of the 1994 Group Vice-Chancellors. The 1994 Group so called, because it was founded in 1994, consists of sixteen internationally recognised universities in Britain, who share common aims, standards and values.
As part of the conference Bill Rammell MP attended a dinner with the VCs and Lancaster University's Pro Chancellor Bryan Gray.
Bill Rammell said : " I am impressed by the work being done at Lancaster University and support their vision to establish the north of England an area of exceptional opportunities. It pays to be a graduate and I want people of all ages to have the opportunity to go to University. Lancaster's work with the Open College of the North West is proving to be a successful introduction to University Life for mature students."