Size Matters
10/21/2005 12:19:55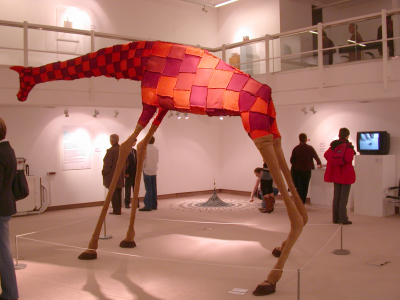 Credits: The Size Matters exhibition in the Peter Scott Gallery,
central work: Laura Ford, Giraffe, 1998, steel and fabric
© the artist.

SIZE MATTERS
Exploring Scale in the Arts Council Collection
A National Touring Exhibition from the Hayward Gallery, South Bank Centre
PETER SCOTT GALLERY, Lancaster University
17 October – 25 November 2005
Main Gallery
Size Matters examines the power of scale, and its potential to create and alter meaning, in recent British art. Featuring over thirty works from the Arts Council Collection, including sculpture, painting and film, Size Matters offers an insight into a current trend and reveals a prevailing obsession among artists with the relative size of things. The works selected feature recognisable objects that have undergone a process of enlargement or reduction, making the viewer feel tiny or gigantic by turn, prompting reconsideration of form, function and context. The exhibition opened at Longside Gallery, Yorkshire Sculpture Park, in March 2005 and comes to Lancaster in October.
We often use the size of our own bodies to test the relative size of other things, but in Size Matters the scale of the human form cannot be taken for granted.
Many artists have used scale to transform familiar domestic objects to disorientating effect. Domestic flights of fancy underpin Dwelling (2002), an animation by Hiraki Sawa in which computer trickery shrinks a fleet of aeroplanes to such a degree that an average house provides sufficient airspace.
Art made on a grand scale has tended to steal the limelight in the traditions of western art history, but a number of artists have sought to reverse this situation. In Cornelia Parker's Fleeting Monument (1984), Big Ben souvenirs surround a suspended brass pendulum, offering an alternative perspective on the famous landmark.
Science continues to extend the limits of big and small, and reduction and enlargement enable artists to give visible form to matter of minuscule or immense dimensions. Mark Francis' large monochrome paintings, Positive (1992) and Untitled (Negative 2) (1992), evoke the world found beneath the microscope. At the other end of the scale, Gary Rough constructs the unnerving infinity of the cosmos within the controlled confines of a mantelpiece in Space (1995).
Size Matters is accompanied by a fully illustrated publication featuring two new essays on the subject of scale by writer and art historian, Marius Kwint, and Natalie Rudd, the curator of the exhibition.