Award for £3m biotech consultancy firm founded by Lancaster graduate
03/03/2011 00:00:00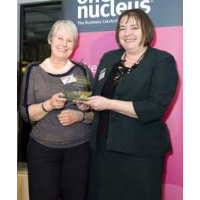 A Lancaster graduate has founded an award-winning pharmaceutical consultancy with a turnover of over £3m and staff in both the UK and US.
Sarah Fryer and her business partner Gillian Gregory launched Gregory Fryer Associates Ltd (GFA) in 2003 as a consultancy company for the biotechnology industry. It provides expert support in the development of gene therapies and stem cell therapies, often in areas of unmet medical need like multiple sclerosis.
By 2010 the company had expanded to 30 people, conducting clinical trials in Europe and the USA and working with companies from all over the world.
The company, based in Ely in Cambridgeshire, was named Professional Service Provider of the Year 2010 at the Genesis Biotechnology Conference in London this December.
Sarah Fryer said: "This award is a marvellous achievement for the entire team at GFA, and an acknowledgement by our industry peers that GFA is providing a useful contribution to the development of new therapies."
She graduated from Lancaster University in Biological Sciences in 1984 and said her tutor helped steer her career in the right direction.
"After a first year of getting to know everyone, the campus college bar-crawls and the nights at the Sugarhouse in town, it was down to hard work and some great field trips up to the Lakes. Not entirely sure about where my career was heading, I am forever indebted to my third year tutor Dr Keith Jones who spotted that there were often jobs advertised in the field of toxicology. "
After an MSc in Toxicology, she worked in clinical research, monitoring clinical trials with new drugs, and eventually became the head of the UK office of a European clinical research organisation.
This leadership role gave her the confidence to set up her own company and the firm is now so successful that it has been bought out by an international research organisation which has retained both Sarah Fryer and Gillian Gregory as company directors.