Student Friendly Businesses Win Awards
06/28/2007 16:44:20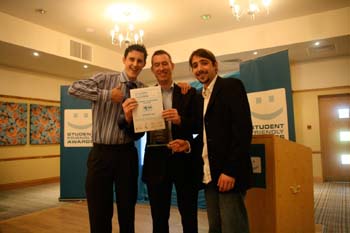 Ali Reeves (left) and Miguel Binetti (right), founders of Souped Up, celebrate winning Student Business of the Year along with Joe Buglass, Manager of Create
Students have given a vote of confidence to local businesses at the annual Student Friendly Business Awards.
The event at the Lancaster House Hotel aims to recognise valuable contributions to student life in Lancaster.
Organised jointly by LUSU, the Students' Union at St Martin's College and the Lancaster Chamber of Commerce, the awards are now in their third year.
A range of businesses and organisations were voted on by students in an online survey.
The best campus based business was Pizzetta Republic, which also won the student choice an award for Best Takeaway. The best Student Employer was Information Systems Services (ISS) and the Best Student Business was Souped Up, which serves food from the LUSU shop.
Green Lancaster, a partnership between LUSU, Estates and the developers UPP, won first prize in the Positive Impact category for their work on environmentally friendly initiatives.
Tom Roberts, Environmental Co-ordinator, said he was delighted.
"It's great that the students mentioned us and very satisfying and reassuring to know we are improving life on campus.
"Our current initiative is providing kitchen packs giving information on recycling and we also get students to make an energy saving pledge. We've organised battery recycling, jutebags for LUSU and energy efficient lightbulbs."
Martin Ennis, LUSU Advertising and Promotions Manager, said: "The aim of the Awards is to encourage businesses in Lancaster to invest in one of their most important assets – their student customers and employees. We want to recognise those businesses both on campus and in town which go that extra mile for students."
Other businesses to win awards included the Dukes Arts Centre in the Non-Profit category, Bella Italia for Best Student Promotion and Student Choice Best Restaurant, Walkabout for Best Student Activity Sponsor, Sainsbury's for the Student Choice Best Food Retailer, the Carleton in Morecambe for the Student Choice of Best Venue and the Lancaster Property Network for Student Friendly Business of the Year.
Undergraduate Barry Jones won the National Association of Student Employment Services' (NASES) Student Employee Institutional Award after working in LUSU Marketing and he will now go forward to the regional NASES round.
.