Lancaster University supports NW Business Environment Awards
06/16/2006 10:01:51
A Cumbrian radio station, a Lancashire-based manufacturer and an international pharmaceutical company with offices in Cheshire were announced as the Northwest Business Environment Awards 2006 winners, sponsored by the Lancaster Environment Centre ( Lancaster University) , the NWDA, Environment Agency, Groundwork Northwest, Envirolink Northwest, ENWORKS, CBI Northwest, The Royal Bank of Scotland, MIDAS and The Institute of Directors.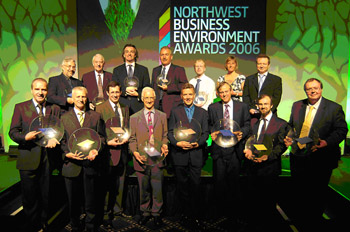 AstraZeneca in Cheshire, Evans Vanodine International in Bamber Bridge, South Sefton Development Trust, INclude Neighbourhood Regeneration Limited in Merseyside, BBC Radio Cumbria, Oleotec Limited in Ellesmere Port, Luminanz Limited in Bolton and David Crawshaw from United Utilities in Warrington have all been awarded gold status by the judges of the Northwest Business Environment Awards 2006.
Now in their fourth successive year, the awards coincide with international celebrations of World Environment Day. Hosted by the Mersey Basin Campaign (MBC) and the Northwest Regional Development Agency (NWDA), the awards recognise the success of the region's innovators to combine exemplary environmental management with their production practice.
Dr. Mark Bacon, Director of Enterprise & Business Partnerships said, "I'm delighted that Lancaster University have now joined with other regional public and private sector organisations in supporting these awards. It is important that we recognise and celebrate the efforts of the commercial sector in both its drive to increase resource use efficiency and develop new technological and service-based solutions to tackle environmental problems such as climate change and waste disposal".
"Initiatives such as Astra Zeneca's 'Thinking About Tomorrow' programme, United Utilities Landcare initiative and the significant increases in resource use efficiency achieved by Marshalls Mono's Ltd., three of the winners at this years awards, demonstrate that companies large and small, together with the wider community all have a part to play in increasing the efficiency in which we use and protect the finite natural resources available to us".
More info
Awards website: http://www.merseybasin.org.uk/press.asp?action=view&id=996