Nuffield Theatre commission opens at Royal Opera House
03/12/2004 15:39:33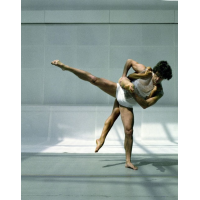 The first commission of the Nuffield Theatre's 'Nuffield New Works' programme – 'Silence of the Soul' by Walker Dance Park Music - has just received its London run at the Royal Opera House.
The piece was commissioned by the Nuffield Theatre and the British Council, rehearsed in Russia and Lancaster and received its UK premiere at the Nuffield in November.
The work combines stunning dancing from some of the UK's best contemporary dancers, with live music performed by Park Music, the ensemble of composer Ben Park.
During rehearsals in Lancaster the professional musicians worked with three Lancaster University music students on developing the score for the piece. And last week the work played at the Royal Opera House's recently converted Linbury Studio to a packed house and repeated curtain calls.
The work is the first in a series of Nuffield commissions, the second of which saw performance artist Ursula Martinez and director Mark Whitelaw working with a group of pensioners from Morecambe.
"Angular chips of dance fly around percussive shards of music in patterns so rhythmically exact and so mind-bogglingly complex that they seem a miracle of shared intuition." The Guardian on Silence of the Soul.