London students urged to apply to Lancaster
03/31/2008 11:06:15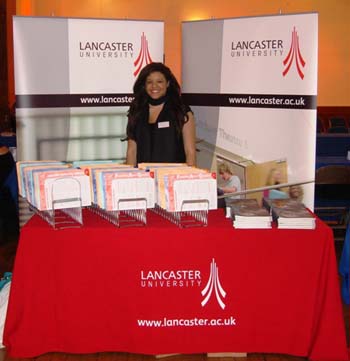 Student Ambassador Chantelle Osili
A student ambassador from Lancaster University has been encouraging teenagers in London to apply here with an account of her "amazing time".
Chantelle Osili, a third year Politics and International Relations student, spoke to pupils from 10 schools and colleges at the recruitment event in Camden where they looked at prospectuses and investigated their options after their post-16 studies.
She said: "It was nice to go down there and share my love of Lancaster University which is such an amazing place. I've had a fantastic time here and done some amazing things. As arts editor of Scan I even attended the film premiere of The Accidental Husband where I met Colin Firth! The experience of coming to University is more than just the course and there are such great opportunities at Lancaster."
Chantelle is a student ambassador for the University's UK Student Recruitment Office which attends over 200 off-campus events every year to raise the profile of the University to prospective undergraduate and postgraduate students.
She said: "It was inspiring to talk to them and show them the prospectus and see them getting interesting. A lot of students saw how different it is from London and they liked the green fields. The campus looks so attractive that they started thinking about applying.
"I told them it's only three hours from London and they were excited to find Lancaster was in such easy reach."
Fred Binley, UK Undergraduate Recruitment Manager said: "Lancaster University has always attended events in London but this year we are concentrating our efforts further. As a university, we recruit and attract students from all over the UK but we are specifically challenging prospective students in London who sometimes feel Lancaster is at the end-of-the world! Now with great transport we're not that far."
Lancaster University were in London again this month at the UCAS Higher Education Convention at Earls Court where over 20,000 students visited the event over three days. A further five London recruitment events will be happening over the next two months.
To find a full list of off-campus recruitment events attended by Lancaster University this year throughout the UK, go to: