University names new building after first Vice-Chancellor
08/02/2010 00:00:00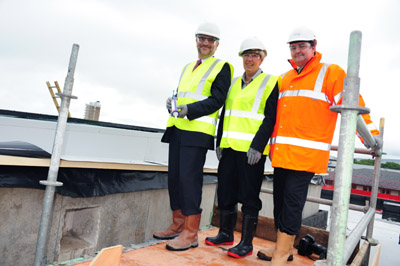 Professor Trevor McMillan(Pro-VC for Research) and Professor Sue Cox (Dean of LUMS) with Director of Facilities Mark Swindlehurst
The University has named a new Management School (LUMS)building after Sir Charles Carter, who was Lancaster's first Vice-Chancellor between 1963-79.
The name of Sir Charles Carter, who died in 2002, has been given to the building which will house additional academic facilities for LUMS, following a Topping Out Ceremony on the 16th July. The contractors, GallifordTry joined the Pro-Vice Chancellor for Research, the Dean and Associate Deans of the Management School and guests in a traditional ceremony to celebrate the completion of the major structural work. The building is due to be completed by Christmas 2010.
Sir Charles Carter, a distinguished economist, was instrumental and far-sighted in ensuring that the University included management subjects within its portfolio, at a time when they were still new to most universities. Now LUMS is a leading management school, ranked consistently among the UK's top five.
LUMS combines excellence in research with a student-centred campus, and a full spectrum of undergraduate, postgraduate, PhD and executive programmes – a unique combination amongst leading management schools. Leadership programmes for multinational companies and outreach provision for smaller businesses are of equal importance to its mission.
The new building provides lecture theatres, seminar rooms, and offices for staff and students for some key departments in LUMS – Marketing; Organisation, Work and Employment; Management Learning and Leadership; and the Centre for Performance-led HR.
The University aims to ensure that it new buildings are designed and built to the highest environmental standards with features designed to reduce energy use throughout the heating, ventilation, cooling and lighting systems. The Charles Carter building is on track to follow the RIBA Award-winning Postgraduate Statistics Centre and others at Lancaster, which have all secured BREEAM Excellent ratings.
Click here to view the video of the construction:
http://www.lancs.ac.uk/estates/projects/current_projects.htm#waterside