Lancaster hosts first regional launch of the Lambert Review
01/23/2004 16:48:35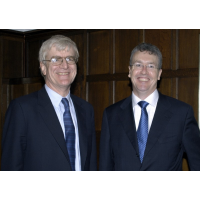 Universities such as Lancaster have a key role to play in developing the North West economy, according to the author of a major business review.
Dozens of business leaders and representatives from agencies across the North attended the first regional launch of the Lambert Review on business-university collaboration today (Thursday, January 29) at Lancaster University.
In his report, Bank of England Monetary Policy Committee member Richard Lambert praised partnership work already being done between forward-thinking universities and enterprise and urged decision makers to forge stronger links for the future health of the UK economy.
Speaking as part of a panel including John Roberts, CEO United Utilities and Bryan Gray, Chairman of the North West Development Agency, Mr Lambert, presented the key findings of his report. He said universities had become the main centres of innovation in modern society and called on businesses to make use of the resource.
Mr Lambert said, through working with universities and higher education establishments, business could tap into a wealth of energy, ideas and expertise.
"Every year they are refreshed by new people coming in, they are multi-disciplinary, really international and they have the freedom to explore," he said.
The panel also included Lancaster's Vice Chancellor Professor Paul Wellings and the Vice Chancellor of Salford University Professor Harloe.
Also speaking at the launch, organised jointly by Business in the Community and the North West Business Leadership Team, was The Times editor Robert Thomson
Mr Thomson said there was a growing awareness in the capital that the North was poised for change.
"I think you should have a great deal of optimism about the North. There is generally a recognition in London that London's role is overstated…There is a growing awareness of the Northern Renaissance."
The Lambert report - commissioned by HM Treasury, the Department for Education and Skills and the Department for Trade and Industry - made a series of specific recommendations including:
· A greater role for the Regional Development Agencies in helping knowledge transfer between universities and business.
· New funding streams for business-relevant research and knowledge transfer.
· Lighter regulatory controls from Government and the Funding Councils where Universities demonstrate good management.
· Developments to speed up intellectual property contracts.
· Encouraging new networks between business people and academics, including the establishment of a business-led Research and Development employers' forum.
·Universities to provide more information on student employability, and businesses to take a greater role in influencing university courses and curricular.
Mr Lambert concluded that the biggest single challenge was in boosting the demand for research from business, rather in increasing the supply of ideas and services from universities. However, he suggested that there were reasons for hoping that business investment in research would strengthen in the future.
Presenting the report to the Government, Mr Lambert said: "I am very positive about the economic potential which business in the UK can harness through developing stronger collaboration with universities. I am also clear that realising this potential will require concerted action by universities and business, with support from Government. My recommendations pose a challenge to all those engaged in this increasingly important area of public policy."