Taste of Success for Student Entrepreneurs
05/18/2007 09:36:27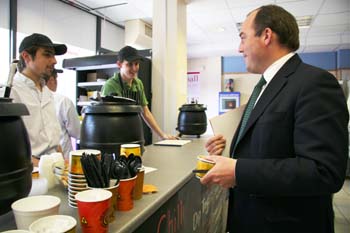 from left:Miguel Binetti and Alistair Reeves serve soup to Ben Wallace MP
The MP for Lancaster and Wyre has praised two students at Lancaster University who set up their own soup business on campus - and now employ staff!
The enterprise is so successful that the two founders are to run it full-time after they have both graduated. They have already taken on three part-time staff and plan to open more outlets on campuses at other colleges.
Politics undergraduate Miguel Binetti founded "Souped Up" with fellow student Alistair Reeves, who has since graduated from Lancaster University Management School.
Miguel said: "It's been going really well, much better than we expected. We both make up the recipes and we get a bit competitive seeing whose soup sells the best. We try to do seasonal ranges to keep people interested."
Their business "Souped Up" serves students and staff from a base inside the Students' Union shop on campus, where Ben Wallace MP queued with the customers and sampled a bowlful.
The other owner of the business, Alistair Reeves, said: "He tried tasters and decided on the Pasta Fagiola which he complimented us on. He seemed very impressed with what we have achieved so far."
The Conservative MP was visiting campus to find out more about the Students' Union outreach activities, in particular the Create Start Up project which provides help and support to fledgling businesses like "Souped Up".
Mr Wallace said he was very impressed with the students' hard work and initiative.
"It's great to see that Create exists allowing those students who want to try and set up a business. There are many students out there who after their first year get frustrated with 'normal' student activities and want to try out something new. Souped Up is a case in point. They have taken something simple and turned it into a massive success. If I had the money then I would invest in it."
The Create project was launched two years ago in order to support students in starting their own businesses. Support includes start-up grants of up to £1500, advice and support from a dedicated staff team, access to business experts and workshops covering topics such as marketing, finance and PR.
Miguel Binetti said that Create provided the impetus to get the business off the ground.
"We had the idea and Create helped us to turn it into reality. It would have been much harder without them. They provided help with things like finance which we knew nothing about and without them we'd be years behind in starting this."
The manager of Create, Joseph Buglass, said: "Ben Wallace recognized the importance of encouraging students to try out their ideas in a low risk environment and applauded the success we have had so far."