Schoolgirls mean business
04/15/2005 12:53:51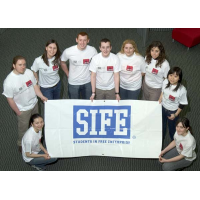 Schoolgirls are to be given a chance to show they mean business thanks to a new entrepreneurship network set up by Lancaster University students.
The network is designed to put young business women of the future in touch with high profile female entrepreneurs and leaders from politicians to self-made businesswomen.
The team of nine Lancaster University students who are setting up the network are part of SIFE (Students in Free Enterprise) – an international global scheme which encourages students to develop enterprising community projects. Funding for the project came from a grant award from HSBC as part of a SIFE competition.
In the coming months SIFE students and University staff will work with pupils at the Lancaster Girls' Grammar to get the network up and running. Once a core group has been established the network will be rolled out to include pupils from other schools across Lancashire.
The project will encourage more young women to take an interest in entrepreneurship and provide girls with access to networks that may influence work and career options. The long-term plan is to get a network in place that will become a permanent fixture – a means of bringing young women together with successful female role models in the local and business community.
Ellie Hamilton, Director of the Institute for Entrepreneurship and Enterprise Development at the University, said: "I'm delighted to see our SIFE students working with young women in our local community to create learning opportunities around entrepreneurship and social enterprise. Despite all the efforts to engage more women in entrepreneurship, there are still a number of barriers and a common misconception that to be an entrepreneur you have to have particular characteristics."
Pam Barber, Head of the Lancaster Girls' Grammar, said: "This is an excellent opportunity for school and university students to work together. We run a very successful Young Enterprise scheme and this project will encourage our girls to develop their entrepreneurial skills and build up confidence. It will also bring another different dimension to our curriculum."
Since starting up last year the Lancaster SIFE team has already completed a number of community projects including a fair trade business plan competition working with local year ten pupils. The team will be representing Lancaster at the SIFE national competition in Leeds on 22 April.