Charity Christmas Fair
12/13/2007 09:34:41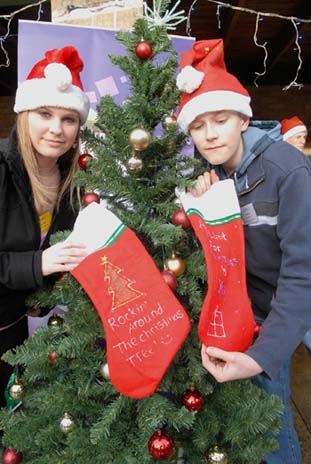 Lorna Shylock from Heysham High and Thomas Hale from Skerton High at the Xmas Fair
Schoolchildren from across Lancashire took part in the first ever Christmas Fair on campus run by student volunteers.
Lancaster University Volunteering Unit organised the event as part of its Voltage project, funded by the charity v, which aims to support pupils to run their own social enterprise with the profits reinvested into the local community.
Pupils from Morecambe High School, Skerton High School, Heysham High School and Blackpool and Fylde College ran stalls selling everything from Christmas stockings to Christmas trees.
Their brief was to run the stall as a business, design the flyers, market the goods and sell them, with all profits donated to a charity of their choice in total the schools raised just over £200 for local charities.
The team from Blackpool and Fylde College were selling festive foliage and candy cones canes for the RSPCA.
Pupil Hayley Orr, who's 16, said: "We've sold about 200 items and it's been some day which has really built up our confidence."
Their teacher Sue Kamp from Blackpool and Fylde College said: "It's about equipping them with lifeskills through things like teamwork and communication."
Skerton High School teacher Debbie Garman said her pupils had gained a lot from the experience of selling Xmas hats and stockings in aid of the NSPCC.
She said: "They've got to work independently and it gets them out of school and away from structured learning which is very exciting. It's broadening their horizons and they enjoy it."
Jamie Sunderland, who is 16 and from Morecambe High School, was running a stall selling chocolates in aid of the homeless.
He said: "I've done business at school but it's all the idea of it and this is the practice of working with different people. We've all chosen a set role of manager, sales team and so on to sell the chocolate."
Martha Jennings, Voltage project co-ordinator, said: "They get the practical experience and they get to engage with the students on a level playing field. Being on campus could also encourage the pupils to think that maybe university is for them!"