Local primary schools celebrate the arts with Lancaster University Volunteering Unit
05/23/2008 14:22:14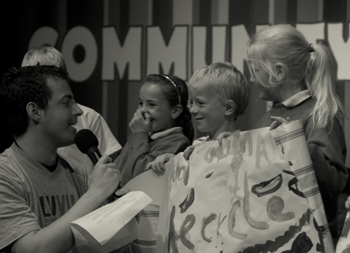 Caton Community school children with LUSU General Secretary Jon Smith explaining what they have painted on their banners. The children had painted these banners with environmental pledges/facts and decorated them with relevant pictures
image courtesy of Abi Williams
On Thursday 22nd May, 8 local primary schools visited Lancaster University for LUVU's annual Celebration event. This event was the culmination of all the efforts and achievements of children and volunteers participating on the 'Creative Arts' project. This project used art and music to help children realise the effect they have on other people; from discussing the difference they make to people all over the world by looking after the environment, to the difference they make to their classmates by being there for them.
Nearly 300 pupils attended the event, coming from Bowerham, Caton Community, Ellel St John's, Lancaster Road, Ridge, Skerton St Luke's, Thurnham Glasson and Trumacar.
In the morning the children spent time discussing topics such as recycling, pollution and bullying. They sang songs, rehearsed performances and produced fantastic pieces of art. They then went on to act out these performances and sing their songs to an audience of parents, teachers and VIPs including Pro-vice Chancellor Amanda Chetwynd and the Right Worshipful Mayor of Lancaster. There were also a variety of displayed artworks including an artificial meadow comprising of flowers made entirely from recycled materials. One of the most poignant moments of the performance was a moment's standing silence to think of the importance of friendship and the harmful effects of bullying. This 'stand against bullying' involved the children and audience in the national 'Big Stand' organised by www.beatbullying.org.
After the performance the Mayor gave a speech that thanked the children for such an entertaining afternoon. He went on to congratulate the LUVU volunteers for all of their hard work, commenting that such a great day for these children would not be possible without the students who designed and led the activities.
Project Coordinator, Joe Bourne said that "the quality of the work the children produced far surpassed all expectations and everyone involved seemed to have a fantastic experience!"