MBE for Margaret Gardner
01/02/2001 00:00:00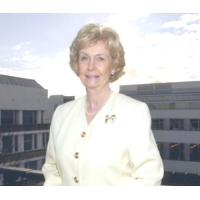 Margaret Gardner, Personal Assistant to the Vice-Chancellor of Lancaster University, has learned she will be awarded an MBE for 'Service to Higher Education'.
When asked how it felt to be the recipient of such an award, her response was, 'I was both overwhelmed and delighted, but also a little humble, as one is always aware that throughout Great Britain there are very many people who deserve similar recognition which never materialises. It also goes without saying of course, that without my beloved 'University of Lancaster' such an award would not have been possible'.
For the past seventeen years of her thirty-seven years as an employee at Lancaster University, Margaret has served under three of the four vice-chancellors appointed since 1963. Her initial appointment in February 1964 was as secretary to the then Finance/Establishment Officer. Her son Andrew was born in may 1965 and she returned to the Department of the then Higher Education housed in St Leonard's House a few months later. In August 1966, Margaret transferred to the post of Secretary to the Head of Elementary Particle Physics, Professor Arthur Clegg, and in 1974 assisted Professor Roger Hadley in setting up what we now know as the Department of Applied Social Science. 1984 saw the pinnacle of her career with the appointment as Personal Secretary to the then Vice-Chancellor, Professor Philip Reynolds CBE. He was succeeded by Professor Harry Hanham from 1985 to 1995 when Professor William Ritchie OBE came to Lancaster from her 'beloved Scotland'.
Margaret added, 'The past thirty-seven years have not always been easy, especially in the stressful times that the University has known, but through valiant endeavour by all concerned we have got there in the end and, as was indicated in an address given at the recent December Degree Ceremonies - 'Lancaster has a precious gem in its University, and we should all strive to maintain its position in the crown of top rank British Universities'.
Margaret is awaiting notification from Buckingham Palace of the actual date of conferment, which will take place in the Spring.
Richard McCormac, the architect of the Ruskin Library at Lancaster University has been awarded a Knighthood.
Jason Queally, Olympic Gold medalist for cycling last year and ex Lancaster
graduate and employee, has also received recognition in the New Years Honours
list.
Mr Reg Chapman the Principal of Blackpool and The Fylde College (one of the University's associate institutions) received an OBE for Service to Further
Education.