Tea and technology – free advice from Lancaster students
02/01/2011 00:00:00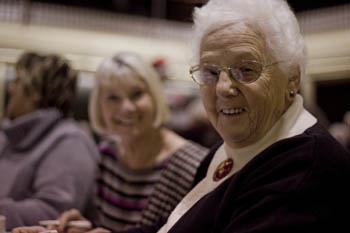 members of the public attending a previous ITea session
Lancaster University students have set up a free technology drop-in service for people looking for help with their gadgets.
Twice a week at Lancaster University Library, Room B17, the ITea team will be dishing up tea, coffee and friendly advice about technology, from using the Internet to learning how to text on a mobile.
ITea was initially run as an awareness raising week by Age UK but Lancaster University students attending the Age UK events quickly realised there was broader demand. The students decided to extend the service and make it available for anyone in need of a bit of help and encouragement.
Elena Bennett, the Coordinator of Lancaster ITea said: "We don't claim to be experts and we certainly can't fix things, but I think the knowledge that we have about everyday technology can be used to improve others' quality of life. We can help you with shopping online, internet banking, cameras, mobiles, webcams, social networking, emails, online dating and many other forms of everyday IT.
"Even if you just want to have a chat about how technology affects your life or any concerns you might have then you can come along. You might even make some new like-minded friends."
ITea volunteers have technology available but encourage clients to bring in their own gadgets to ensure they get the most out of the sessions.
ITea runs during the university term on Mondays and Fridays from 2pm until 4pm (which this term ends 1 April 2011). The service is being supported by LUSU Involve, who can be contacted on 01524 592828 if you have any queries or want more information about ITea.