Writing tutor pens a warrior's tale
08/04/2004 09:42:34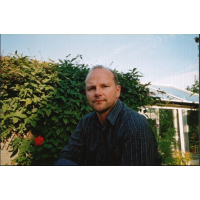 A Creative Writing tutor from Lancaster University has published his first novel.
George Green's novel "Hound", which comes out in paperback this week, was dubbed "An impressive first novel" by The Guardian.
Published by Transworld / Bantam the book is a warrior's tale set 2,000 years ago in Ireland. It tells the story of one man's journey from the centre of the Roman Empire to a land where a man's honour is more important than his life
Mr Green, who was brought up in Ireland but moved to Lancaster after a 12 year career with Local Government, said: " It is a story of heroism and friendship, of love and betrayal, of war and poetry."
One reviewer, Manda Scott, author of Boudica, described it as "The ultimate warrior's tale...a beautiful, poignant story of vengeance, lost love, outstanding heroism and a quite astonishing capacity for alcohol."
Other work by George Green includes:
1995 - Northern Stories 6
Prize-winning story Baby performed at Festival and published in Festival Anthology
1998 - Lancaster Literature Festival 98
3 Voices - story commissioned and performed as part of Festival events
1999 - Debate of the Age
Monologue commissioned and performed as part of launch of campaign: broadcast on Radio Lancashire, July 1999. Publication planned for 2002.
2000 - The New Writer
Article - Interview with Artistic Director of Lancaster LitFest published, October 1999.
October 2000 - Spotlight One
Editor of Anthology of work performed in Lancaster over last 5 years. Story The Boy Who Loved Trains, published in Anthology.