Lancaster Launch for Northwest Tidal Energy Group
12/02/2008 16:53:33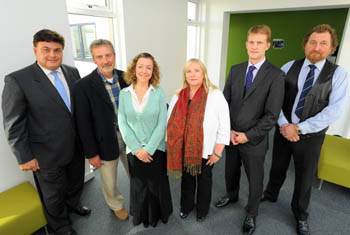 L -R George Aggidis, Nigel Catterson, Gill Nowell, Hazel Broatch, Anthony Hatton, Bob Long
Lancaster University is to host the launch of a new group dedicated to exploring the tidal energy potential within England's Northwest.
Northwest Tidal Energy Group will examine the Northwest's ability to extract tidal energy from the Irish Sea, as well as sharing information and encouraging debate.
The launch - on 17th December 2008 at Lancaster University's George Fox Building, (9:30am to 3:30pm) – will bring together the North West's key stakeholders from industry, the public sector and academia.
The event will provide an overview of tidal energy technologies, demonstrate best practice from other successful global projects and outline key potential tidal projects in the region - the Mersey, the Solway and Morecambe's Bridge Across the Bay.
Delegates will also hear from the Department for Business, Enterprise and Regulatory Reform (BERR), Department for Environment Food and Rural Affairs (DEFRA) and Natural England. The keynote speaker is Mr Bernie Bulkin of the Sustainable Development Commission.
The Group is facilitated and chaired by the Northwest Regional Development Agency (NWDA).
Joe Flanagan, Sector Leader - Energy and Environmental Technologies at the NWDA said: "England's Northwest has the potential to provide up to 15 per cent of the region's electricity needs – a significant figure that highlights how the region's natural assets such as tidal energy can be used for sustainable energy opportunities.
"The NWDA is committed to meeting national and regional targets in this area. As climate change moves up the political agenda, the Northwest is demonstrating its commitment and leading the way for the rest of the UK."
Lancaster University's George Aggidis, founding Chair of the Northwest Tidal Energy Group, said: The Northwest Tidal Energy Group started life four years ago at Lancaster University as part of the University's Renewable Energy Group. It is extremely gratifying to see how the group has grown and developed over the years to encompass today all the key players on tidal energy in the North West. "
To register interest in this event please email m.whitworth@envirolinknorthwest.co.uk
Pic Caption: Left to Right
George Aggidis, Director of Lancaster University's Renewable Energy Group; Nigel Catterson, NB21C; Gill Nowell, Sector Development Manager - Energy & Environmental Technologies, NWDA; Hazel Broatch, Bridge Across The Bay; Anthony Hatton, Peel Holdings; Bob Long, Wyre Tidal Energy Group.