Fairtrade Award for Lancaster
09/07/2007 10:43:47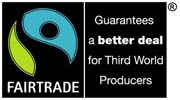 the Fairtrade mark
Lancaster University has been awarded Fairtrade status, with dozens of products bearing the green and blue logo sold at shops and offered in restaurants and cafes across campus.
As well as maximising the sale of Fairtrade products, the University will offer Fairtrade foods such as tea and coffee at meetings and conferences wherever possible. A Fairtrade Steering Group has also been set up, with representatives from LUSU, catering and the University. Both the University and LUSU are to promote the sale of Fairtrade products and raise awareness of the label across campus.
The University's Environmental Co-ordinator, Tom Roberts, said the award of Fairtrade status sent out the right message.
He said: "This has come about as a result of students lobbying and campaigning for Fairtrade so there is very much the demand for these products. It shows that we have an international focus and that we care about the world outside.
"People can see the benefits of Fairtrade and how it makes a difference to people's lives in the developing world and they don't begrudge paying a few extra pence.
"In terms of corporate social responsibility, the University has huge buying power and this is a signal that we're using that buying power responsibly."
The Fairtrade Mark is a label which appears on everything from chocolate to cereals as an independent guarantee that disadvantaged producers in the developing world are getting a better deal. They receive a minimum price that covers the cost of sustainable production and an extra premium that is invested in social or economic development projects.
Almost three in five British adults recognise the Fairtrade label, with UK sales of Fairtrade products reaching £290m last year, an increase of 49 per cent on the previous year.
The Methodist Chaplain Rev Steve Charman said he was delighted that the campaign for Fairtrade status led by the Chaplaincy Centre had been successful but the fight was not over.
"There are still millions of people who do not receive a fair wage for the work that they do. Until the necessity for a Fairtrade Mark is removed, it is essential that we campaign on behalf of the workers around the world who are exploited."
A spokeswoman for the Fairtrade Foundation said: "We're delighted to be able to award Fairtrade status to Lancaster University. With dozens of products bearing the Fairtrade Mark being offered in restaurants and cafes across campus, this is a significant achievement! The university's commitment to continue campaigning for increased Fairtrade consumption will make a real difference to the lives of farmers and workers in the developing world."