Student Help For Homeless Centre Praised
06/29/2007 10:22:53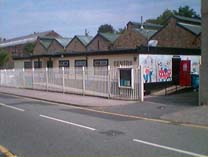 Lancaster and District Homeless Action Service on Edward Street in the city
A homeless charity in Lancaster has praised students for the support they give to its work. Lancaster and District Homeless Action Service depends on donations and voluntary work.
Students leaving campus have been donating unwanted household items like pots and pans for years, but now the end-of-term collections from the Chaplaincy Centre are to be formalised with regular weekly collections from each college during the last term of the year.
Labelled crates will be left in each porter's lodge for students to donate everything from duvets to tinned food and kitchen equipment.
Islay Watson, the Acting Project Manager at LDHAS, said: "The help we get from the University is massive. Bedding, pots and pans and food are always needed. We're a small charity so the donations we get from the students are very useful. Having regular donations is very good because we won't get all the stuff all at once at the end of term which can take a lot of time to sort out."
The Centre also benefits from between five and ten students volunteering at any one time at the day centre, which provides food, clothing, showers and laundry facilities.
"The students are very reliable and help out a lot working in the kitchen."
The change to the collections has been instigated by Green Lancaster, an environmental initiative which has support from LUSU, Estates and the developer UPP.
Tom Roberts, the University's Environmental Co-ordinator, said: "At this time of year, students are vacating residences and inevitably have surplus food, cooking utensils and beddings etc which would otherwise require disposal. We're keen that the University's relationship with LDHAS becomes more formalised.
"It's extraordinary what gets thrown out because of course international students can't take much with them. We're keen that LDHAS arranges collections with the colleges directly to suit their needs. It is important that staff and students are clear about these collections and about leaving crates in each college. We're going to have a clear timetable of collections with a guide as to what students can and can't donate."
He said the University is keen to foster good relations within the community and wider district.
"The Homeless service is provided by a small number of staff and many dedicated volunteers. There is nothing else quite like this in the area which consistently gives this sort of care."