Ruskin and Switzerland
10/15/2001 16:35:28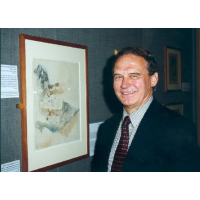 A reception for over 140 people was held in the Ruskin Library on 6th September. The event had been organised by the Ruskin Foundation and Stephen Wildman, Curator of the Ruskin Library, for the British Association for Victorian Studies who were holding a themed conference on Victorian Performances at the University.
The reception had been designed to coincide with the 'Ruskin and Switzerland' exhibition which had been running from March this year and which focuses on John Ruskin's passion for Switzerland and the Alps. The Swiss Consul Mr Max Inhelder addressed the reception and was said to have been impressed with the library's extensive collection of works by Ruskin. Mr Inhelder is based in Manchester and was accompanied to the event by his wife and son.
Many of the guests attending were delegates of the conference which is being hosted by the department of theatre studies. Dr Kate Newey, Head of the department of Theatre Studies and also a member of the foundation committee for the Association of Victorian Studies commented that "it had been a wonderful and quite personal introduction to the work of one of the country's foremost Victorian scholars for many of the delegates". Over 70 papers were delivered at the conference from countries such as, Singapore, Japan, France, Germany, USA, NewZeland and Canada.
In addition, other guests included Mr John Gilbert, the Deputy Mayor of Lancaster, Mr Stephen Wildman, Ruskin Library Curator, Mrs Jacqueline Whiteside, University Librarian and many Ruskin MA Students.
The current exhibition being held at the Ruskin Library is 'Ruskin and the Decorative Arts', running until 22 December.