Lancaster University maintains top league table position
06/03/2009 10:54:02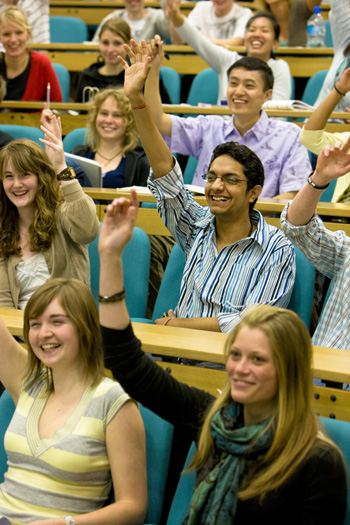 Lancaster scores highly for student satisfaction in the latest national league tables
Lancaster is the top university in the North West in three major national league tables published this year. The latest of these is the Times Good University Guide 2010, published in June 2009.
Lancaster also maintains this top position in the Independent and the Guardian national league tables. The Independent's table, published in April, places Lancaster in the top 10 in England.
The Independent's Complete University Guide 2010 ranks Lancaster 12th overall in the UK out of 113 institutions. Lancaster University is also ranked in the top 20 for student satisfaction.
The Guardian University guide published on May 12th, ranks Lancaster 16th out of 117 universities, and top in the North West.
The Times ranks Lancaster 23rd out of 114 universities. Lancaster is currently top in the NW in The Sunday Times, which will update its table later this year.
Professor Paul Wellings, Vice-Chancellor of Lancaster University said: " Maintaining the top position in the region across all the major league tables is an outstanding achievement for Lancaster.
" Students should be confident that they will get the very best academic experience here, through a combination of world-class research and the highest levels of student satisfaction - areas where Lancaster performs particularly well".
Lancaster University is also ranked among the world's best universities according to the Times Higher Education. Lancaster is one of only 29 UK universities ranked in the top 200 universities worldwide, coming in at number 170 in the annual THE-QS world university rankings
The 2009 National Student Survey also ranks Lancaster in the top 10 of comparable institutions and top in the North.
Lancaster University has also emerged in the top band of UK Universities with a high proportion of its research rated 'world leading' in the latest Research Assessment Exercise published in 2008.
The RAE measures the quality of research conducted in universities and other higher education institutions in the UK against international standards of excellence.
19% of Lancaster's research is 'world leading'.
Over 60% of Lancaster's research is recognised as being of an internationally excellent standard. This places Lancaster in the top 13% of UK universities in terms of world leading and internationally excellent research.
Overall, 92% of research at Lancaster is recognised as being of an international standard and all units of assessment included world leading research.
13 departments are in the top 20 of UK institutions for their individual disciplines. This equates to 73% of staff.
Lancaster is ranked joint 15th out of 147 UK institutions for the amount of research judged to be of world leading importance.
Lancaster is a member of the 1994 group of research led universities.The Times Good University Guide has placed 1994 Group universities top in six regions of the UK with Lancaster being the most highly rated in the NW.