The Nuffield Theatre invites you to Dinner with America
11/20/2008 11:24:27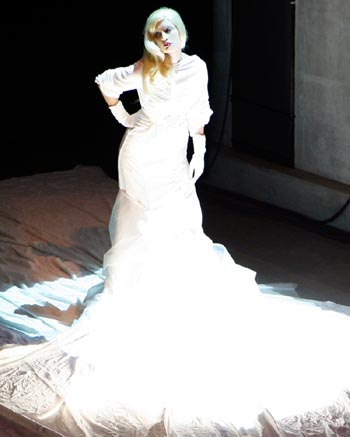 Dinner with America
DINNER WITH AMERICA -Rajni Shah
Saturday 29th & Sunday 30th November
7pm, £10 / £7 concessions
Come and have Dinner with America at the Nuffield Theatre. Over the course of Rajni Shah's performance installation, you are invited to witness American icons and ideals slip into one another and to hear Americans define their own patriotism. Here is the America of Amazing Grace, The Statue of Liberty and Red, White and Blue.
Morphing through different states of costume, Rajni Shah adopts a series of poses that evoke famous cultural icons; a bride in a shimmering white veil, a blonde 50's starlet, and a glamour model in Wonder Woman boots.
The performance lasts two and a half hours, but you are free to depart and return throughout, and it ends with a feast of nuts, chocolate and fruit, which you are invited to share with the artists as they exchange conversation.
Supported by The Nuffield Theatre, Dinner with America is the second in a trilogy of visually rich performance installations exploring cultural identity in the 21st century.
What audiences have said about Dinner with America...
'A wonderful thought provoking and deeply moving piece. Thank you for your work.'
'Extraordinary, moving… no one is currently making such powerful work. Food indeed for thought.'
www.nuffieldtheatre.com boxoffice@nuffieldtheatre.com
Tel: 01524 594151 Text: 07810 082832